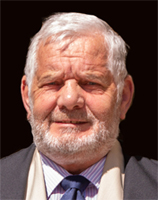 Company: Barbers
Position: Warden Of The Barbers Company
Alan was born in Wolsingham before moving to Crook where he went to school.
He served an apprenticeship as a barber in Durham City which gave him eligibility to the Freedom which he attained when he was admitted into the
Barbers' Company at the Candlemas Guild Day in February 1988. Alan became selfemployed in 1966 and opened "Alan's Barbers" in Gilesgate in 1966 where he established a respected and popular business over 49 years.
After a lifetime as a Barber it is fitting that Alan became Warden of the Barbers' Company at the Martinmas Guild Day in November 2014. It was a doubly happy event as Alan's daughters Kay and Hilary were also accepted into the freedom on that occasion. He hopes that the family tradition can be maintained for generations to come.
In the meanwhile Alan is looking forward to working with colleagues to maintain the well-being and traditions of the Freemen in his new role.