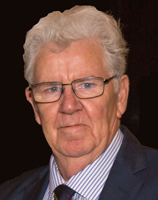 Company: Plumbers
Position: Member
Admitted: 5 Feb 2018
Alan Oliver, is self-employed and well known throughout the city.
Serving his time in Durham qualified him for admission to the Freemen.
Alan, who lives on the city's western perimeter, was initially apprenticed to the plumbers Harold Fairclough before switching to the firm of Frederick Dennison.
Alan's current working arrangements allow a little more time to fine tune his golfing handicap at the city's club.