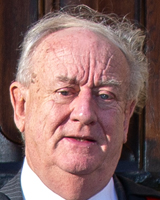 Company: Cordwainers
Position: Gentleman Freeman
Admitted: 4 Feb 2019
Seventy-three-year-old Alan has lived in Durham all his life and he and his wife Gina have two sons and four grandchildren.
Until his recent retirement he headed a practice now based on the Belmont Business Park currently employing four partners – one of them his son Robert - and a staff of 20. He has also played a key role in the development of Ribchester, Smith and Law, an accountancy firm based in Newcastle's Stowell Street, serving the area's Oriental community and staffed entirely by Chinese speaking financial advisers.
After leaving the Durham Johnston Grammar School in 1963 with three A-levels, he was articled to a large firm of chartered accounts on Tyneside until he qualified four years later. In the early 1970s he took charge of his own company in Durham, operating for many years from offices in Saddler Street.
For 30 years Alan was District Treasurer of the Durham Scouts, the Durham Citizens Advice Bureau and a Director of the Indoor Market and remains company secretary. For more than two decades has been Treasurer of the Shakespeare Temperance Trust in North Road and a Trustee and Honorary Treasurer for Durham Rotary Club. He has also been a long-standing Trustee of Durham Union Society and member of the Finance Committee of the Governors of Northumbria University.
Ten years ago he was awarded an MBE for his charitable and community work within the city.
He remains a member of the Mayor's Bodyguard and when he became a freeman's trustee his experience was immediately called on to steer the organisation through new Charity Act regulations to qualify for charitable status – a move which significantly increased the freemen's ability to offer financial support to a wide range of organisations across the city.