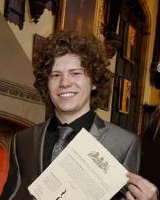 Company: Joiners
Position: Member
Admitted: 13 May 2013
The strong family bonds cultivated by the City of Durham Freemen were further strengthened today Monday 13th May 2013 when three new members were sworn in.
Award-winning construction site manager Chris Fenwick, a member of the Joiners' Company, was joined by his son Alexander and daughter Amalia.
Mr Fenwick, 49, of Durham City, served his time as a joiner within the city boundaries, before further studies earned him a Bachelor of Science degree from Northumbria University and membership of the Chartered Institute of Building.