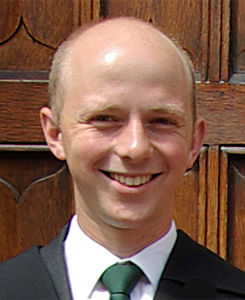 Company: Drapers
Admitted: 5 Aug 2019
It was a great honour to be admitted as a Freeman of Durham in August 2019 alongside my brother James.
My family have a long connection with Durham. For several generations during the 18th and 19th century my ancestors worked in the coal mines around Durham in Washington, Fatfield, East and West Rainton and Leadgate in Consett. My great grandfather left the mines to become a Marine Engineer and my grandfather was born in Sunderland in 1920. My grandfather went on to serve in the Western Desert and in Europe during the War and subsequently went into the motor business. As a result, the family moved slowly South with my father being born in the Midlands and my brother and I being born in Dorset. Nevertheless, our family connection with Durham is still important to us.
Like my brother James, I attended Ballard School in New Milton and then Canford School in Wimborne. I went on to study History at Birmingham University and I graduated in 2018. I am now studying for my Law exams at the University of Law in Guildford and, if successful, I hope to go on to qualify as a Solicitor. I have several interests, including sport and cooking, in particular, I enjoy playing football for my university team.