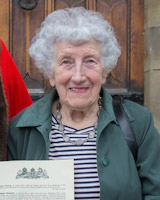 Company: Plumbers
Position: Member
Admitted: 2 Nov 2015
Great grandmother Anne Pearson followed in the footsteps of her grandfather, father, two brothers and brother-in-law when she became a member of the Plumbers' Company.
"I have a son and two daughters and would very much like them to follow the family tradition. I underwent this ceremony to allow them to do that," said Anne, a retired civil servant who also has six grandchildren and eight great grandchildren.
Her father, Emmerson Heron, qualified for the freedom after completing his apprenticeship as a master plumber and brass finisher in the mid 1890s – following his own father, Henry. Her brothers Harold, now deceased, and Leslie, who is in his 70s, also trod the same well-worn family path.
Anne was employed at the National Savings Department in Durham between 1974 and 1990, while husband Stanley worked at the Hawthorn Coke Works near Murton.
He served for six years with the 4th Battalion the Border Regiment at the Siege of Tobruk, Syria, India, Burma, Norway and Germany during the Second World War.
Anne was welcomed into the Plumbers' Company with two other newcomers whose shared family links to the freemen also stretch back more than a century.