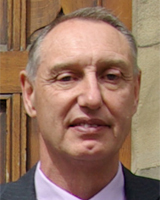 Company: Joiners
Position: Member
Admitted: 7 Aug 2017
Anthony is a member of the Institute of Certified Carpenters.
After completing his apprenticeship he switched to the city council's workshops where he spent a decade before joining Durham University's estates unit where he stayed for more than 20 years, retiring six years ago.
"I have always been in work and consider I have been very lucky in life. It is quite an honour to become a freeman," he said.
Anthony, a former member of the St John Ambulance Brigade who stays fit by swimming three times a week, has joined the Joiner's Company.