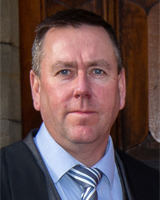 Company: Joiners
Position: Member
Admitted: 12 Nov 2018
Forty-six-year-old Anthony, one of two joiners within the restoration team has worked at the cathedral for 29 years.
One of the tasks testing his skills has been the creation of a protective climate within the lofty superstructure which takes a constant battering from the elements. Rot- resistant wood, specially treated with vinegar, is being used to replace crumbling oak. To extend the life of the installation perforated plastic sheets, reinforced with stainless steel mesh, are being added to act as "gale breakers," offering further longevity to the repair operation.
"Working on the cathedral and its associated estate is a constantly varying challenge. I have also been involved in roof repair on the monk's dormitory, the refectory library and deanery," said Anthony, who was married in the cathedral.