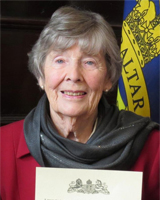 Position: Member
Admitted: 12 May 2014
A nonagenarian grandmother has become the country's oldest ever new freeman.
It's taken 92 years, but on Monday, May 12th 2012 Connie Hotchkiss was finally admitted to the City of Durham Freeman, in a grand and historic ceremony staged in Durham Town Hall.
For most of her life, Mrs Hotchkiss, who has four children and nine grandchildren, was prevented from following her father Frederick Elliott into membership of the ancient order, as it was an exclusively male organisation.
But in 2012, the 700-year-old institution relented and Durham-trained female apprentices, along with the female relatives of existing freemen, are now entitled to join.
However, Mrs Hotchkiss only learned she was eligible after her son, who was researching the family history, found a story in The Northern Echo online.
Mrs Hotchkiss travelled from her home on the Isle of Man to be admitted by Councillor Jan Blakey, the Deputy Mayor of Durham, who was standing in for Mayor Pauline Charlton, who was unwell.
Afterwards, she said: "I wanted to keep the family tradition going.
"My brother was already a freeman and I felt we ought to keep the link going."
Mrs Hotchkiss, who was surrounded by supportive relatives, joins the masons' guild, whose leader, or warden, Bob Elliott, is believed to be a distant relative.