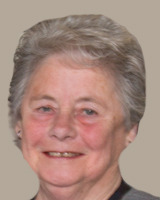 Position: Lady Freeman
Admitted: 2 May 2015
Grandmother Doris McElwee was officially sworn-in at the May Day Guild Day, joining the eight men who make up the small but select band of Gentlemen Freemen.
Fittingly, it was 79-year-old husband Joe who officially welcomed Mrs McElwee into the Cordwainers' Company where he is warden.
Chairman of the Wardens, John Heslop, commended Mrs McElwee's unstinting support both for husband and the 230 freemen and women who make up the eight surviving companies.
He said: "Doris religiously attends every guild day, every annual dinner and, for the last ten years, has accompanied Joe to the annual general meeting of the Freemen of England and Wales at venues across the country.
"She has also devoted considerable effort to welcoming to the city representatives of other freemen's organisations, not only from across the north, but from as far afield as London.
Mrs McElwee worked for nearly 23 years in one of the city's major stores before her retirement in 1992.
She devotes her spare time to working as a senior steward at Durham Cathedral and, in her quieter moments, enjoys knitting.