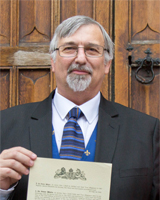 Company: Cordwainers
Position: Member
Admitted: 8 Aug 2016
Dr Peter Minto, born in the city's Dryburn Hospital in 1958, lived most of his early life in Sacriston where his mother worked in the village pit's pay office and his dad laboured underground at the nearby Craghead Colliery.
He began his working life as an apprentice at a garage in his home village, training to sell vehicle parts and accessories. His first steps on the long road to academia started with a City and Guilds course at Durham Technical College in 1974. Three years later, at Gateshead College, his continuing studies earned him a Motor Industry Management Diploma and over the next few years he increased his academic qualifications in motor industry management.
By the early 80s he decided to pursue a career in education and, after yet further study, became a visiting lecturer at Gateshead College before his appointment to a full-time lecturing post in 1983 when he joined the motor vehicle department.
Six years later he was teaching law on a wide range courses at the college and his continued interest in the subject resulted in him undertaking a five-year part-time course at the University of Northumbria which culminated with the award of an LL.B Law Degree in 1993. A year later, after further study, he completed an honours conversion course and was awarded an LL.B (Hons) Degree.
During and after his degree studies he successfully introduced a number of law courses at Gateshead College and worked closely with the National Association of Licensed Paralegals (NALP) which awarded him a Fellowship in 2002. After 22 years at the college, where he was head of law, he took up a full-time appointment as senior law lecturer at Sunderland University in 2004.
Dr Minto undertook a five-year study and analysis of a unique academic scheme operated between Sunderland University and the NALP. The pioneering project, which he had designed and implemented, not only enabled Sunderland University students to graduate with an LL.B (Hons) degree and a Higher Diploma in Paralegal Studies but produced a blueprint which other universities across the country are now following. That ground breaking work resulted in the award of an LL.M Masters' Degree in Law from the Southern Eastern University (UK).
He became national advisor for the NALP's joint degree/diploma scheme and in 2012 a further accolade followed when, as a result of his many years of association with the NALP and for his development of the joint degree/diploma programme, the SEU (UK) awarded him an Honorary Doctoral Degree in Law -LL.D (honoris causa) – completing what is thought to be a unique set of legal qualifications.
After an academic career spanning 33 years, teaching mainly law, he took early retirement last autumn and was honoured by the NALP for his "outstanding life-long service" to the paralegal profession with the presentation of a crystal plaque – only the second time the association has made such an award.
He has been a magistrate for almost 28 years and has presided over adult and youth courts across the county, as well as sitting at both Durham and Teesside Crown Courts. He remains a registered paralegal.
Dr Minto and his wife Janet have been married for nearly 36 years and have two grown up daughters, Catherine and Stephanie. Their only son Andrew was 23 when he was tragically killed in an accident at Durham Railway Station in 2010.
A classic car enthusiast, who lives in a village near Durham, he was admitted to the Cordwainers' Guild.