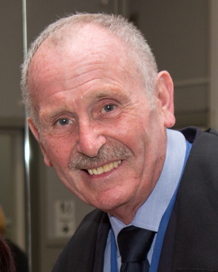 Company: Plumbers
Position: Warden, Chairman Of The Wardens, Chairman Of The Charitable Trust And Temporary Membership Secretary
Eric Bulmer was appointed Warden of the Plumbers' Company at the May Day Guild Day 2013. Eric carries on the good work undertaken by Harry Robson who served as Warden for several years.
Although Eric became a Freeman only recently he has strong family ties with the Freemen of Durham City and is the fourth generation of Bulmer to be admitted to the Freedom; a line that extends to his great, great grandfather, Frederick Bulmer who was admitted to the Company of Joiners by servitude in January 1851.
Eric is Durham born and bred and served his apprenticeship as a painter and decorator with P.L. Smith and Co Ltd of Elvet Bridge in the late 1950s where he developed an interest in gilding and sign-writing. He later went on to teach his craft in a number of Further Education Colleges, eventually retiring 26 years later as head of faculty for Construction and Engineering at Newcastle College.
Eric is keen to develop opportunities for greater participation by members of his Company to take a more active role in the Plumbers' Company. He hopes that this will give them a more meaningful experience and a greater understanding of what it means to be part of the heritage of Durham City.
Eric will welcome suggestions from all members to assist in achieving this goal.