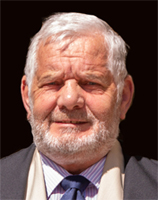 Company: Barbers
Position: Warden Of The Barbers Company
Admitted: 13 Nov 2017
Fred Snowden was born in Atherton Street Durham City, his father was a weaver at the carpet factory in Walkergate all of his life, and his grandfather was a painter at Durham Cathedral.
Fred went to St Goodric's school and then to St Leonard's School at North End. On leaving school Fred served his time as a plumber with Eric Whitfield Plumbing Company at Broom Park. His last job working as a plumber was at HMP Durham before retiring in 2012.
In 1961 Fred joined the Durham Rowing Club and is still a member, he was president of the club from 2002 -2008 and was involved in the building of the new boathouse. He was for many years a member of the Regatta Committee and has been Deputy Chairman of the Northern Rowing Council.