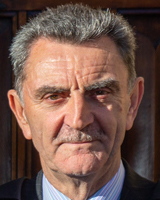 Company: Butchers
Position: Gentleman Freeman
Admitted: 4 Feb 2019
Now aged 72, he started work as an indentured trainee journalist in the city in the mid-1960s and over the years his work has been widely published in regional and national newspapers. He has been a contributor to both regional radio and television and was also involved in the BBC's expansion of the local radio network in the late 60s, producing broadcast material and interviews for Radio Durham – the experimental forerunner of current stations on Tyneside, Teesside and Cumbria.
In 1986 he was directly commissioned into the Light Infantry and was one of the first journalists recruited by an expanding part-time specialist unit, now known as the Army's Media Operations Group (MOG). Assignments took him across the UK and mainland Europe until he left the Army ten years later.
For 17 years, until his retirement in 2009, he managed Durham Constabulary's Press and Public Relations unit and received unsolicited awards from north-east journalists and a commendation from Durham's Chief Constable.
George, who can trace his family links back through three generations of Durham miners, is married, lives in Durham with wife Maureen and has a daughter, son and four grandchildren who all live locally. He pursues a life-long interest in fishing for trout, sea trout and salmon, tying the majority of his own flies.