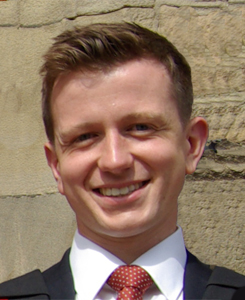 Company: Drapers
Admitted: 5 Aug 2019
I was delighted and honoured to follow the family tradition and, along with my brother Alex, be admitted as a Freeman of Durham on the Lammas Guild Day in August 2019.
The family's membership of the Drapers Guild has been passed on for many generations. We have the Admission Certificates going back for five generations to my three times great grandfather Williams Lee who was admitted in 1831 and research shows we can trace the family back to my eight times great grandfather Roger Lee who was admitted to the Drapers Guild in 1705. It appears many of those admissions took place in the same Guildhall as my ceremony.
It is likely that the Freeman in the family go back beyond that and indeed our family folk lore is that we became Freeman due to an ancestor fighting in the Battle of Neville Cross in 1346, but I suspect we will never be able to prove that!
I was born in Poole in Dorset and my family home is in Christchurch. I was a pupil at Ballard School in New Milton and then Canford School in Wimborne. I went on to Warwick University to study Management and obtained my degree in 2013. I have subsequently qualified as a Chartered Accountant in 2016 and now live in London and work for an accountancy firm in Canary Wharf. When not working I enjoy music and running.