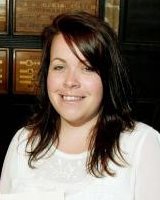 Company: Drapers
Admitted: 12 Aug 2013
Joanne Vest, who works at Evergreen Primary School, in Bishop Auckland, County Durham, was installed as a member of City of Durham Freemen in a ceremony at Durham Town Hall.
The 35-year-old, who celebrated her birthday the day before, was one of several new members joining the Drapers' guild in a ceremony overseen by Councillor Pauline Charlton, the Mayor of Durham and chairman of Durham County Council.
Miss Vest, who lives in Durham City, joins her brother, father and grandfather in the group's ranks.