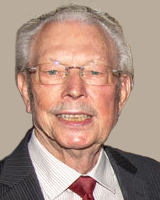 Company: Cordwainers
Admitted: 1 May 1990
Joe was born in Esh Winning on the 29th October 1935 and attended Our Lady Queen Of Martyrs School Esh Winning.
He started an apprenticeship as a Carpenter and Joiner in 1950 at Nelson Bros of DurhamCity.
In 1956 he was called up to do National Service, serving two years in Malaya on active service with The First The Kings Dragoon Guards.
In 1959 Joe worked at Bell & Ridley of Durham for a number of years then became self employed for three years. He was then invited to be manager for Mc Kenna's Plasters which he did for 11 years before moving on to become a Site Manager for Wimpey Homes where for the next 12 years worked building a number of housing sites in Darlington. His last job for Wimpey Homes was at the Darlington Memorial Hospital working on a three story blocks of Flats.
In 1961 Joe married Doris and have one son John who was made a Freeman in 1994. They have two Grandson's who are to be made Freemen at the Martinmas Guild Day in November.
Joe was made a Freeman in 1990, and Warden of the Guild of Cordwainer's in 2005 following Tom Herron who was also the President of the Wardens.
Since 2005 he has been involved with the charitable giving arm of the Freemen which started as a sub committee of three in 2005. He continues this role as a trustee of the Charitable Trust a position he shares with four other trustees.
As a Warden his aim has always been to promote and raise the profile of the Freemen of Durham.