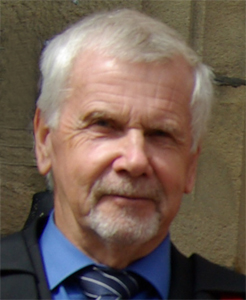 Company: Plumbers
Admitted: 5 Aug 2019
Seventy-two-year-old John, the latest city craftsman to join the Plumbers' Company, lives on the outskirts of Durham with his wife Ivy, and started his working life in 1963 working as an apprentice for Fred Dennison. He stayed for five years before moving on to work for other plumbing companies in Durham.
In the late 1970s he was offered work supporting specialist security services for Barclays Bank and worked in branches in Darlington, Durham and Stockton before switching to the centralised Complex Queries Department based in Middlesbrough.
In retirement he and his wife enjoy hillwalking in the Lake District and the local dales, ballroom dancing and trips to the theatre. But life has not always been so relaxed.
Both he and Ivy are experienced scuba divers, skiers and John even tried his hand as a crew member on a racing yacht. The couple also both completed the Great North Run for ten years. But their adventurous pastimes are long behind them and now concentrate on less hazardous adventures.