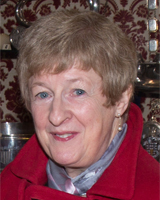 Company: Drapers
Position: Member
Admitted: 13 Nov 2017
Judith, aged 62, retired more than a year ago after spending 36 years of her working life as a laboratory technician in Durham University's Chemistry Department.
She has always lived in the city and after being awarded a chemistry HND at what is now Northumbria University took her first job with a pharmaceutical company in Cramlington where she stayed for three years.
When Judith stepped forward to take the oath she too reinforced a long-standing family tradition in the Drapers' Company started by her grandfather - a time-served city tailor - more than a century ago.
Her dad James, a warden of the drapers and a well-known figure in the city, started his working life as a post office telegraph boy and was responsible for the supervision of sub post offices across the city when he retired.
He followed his dad into the company at the age of 21 and died a year ago aged 90. His sons, Stuart and Andrew, made city history in 1980 when they became the first twins to become freemen. Stuart is the drapers' current warden.