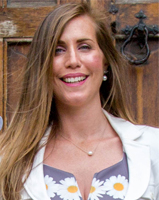 Company: Drapers
Position: Member
Admitted: 8 Aug 2016
Former police detective Leah Freeland, followed her mother into the Drapers' Company – reinforcing confirmed family ties to the freemen stretching back into the late 19th century.
Thirty-three-year-old Leah served with the Hertfordshire force for ten years and was an acting detective sergeant when she decided to switch careers following the birth of her son Toby, who is now three.
"Working shifts and at night with a baby to look after did not seem an attractive option. I now teach in a primary school in St Albans," said Leah,
Four years ago her mother, Mary Hayes, also from Hertfordshire, was among the first intakes of women who used equality laws to sweep aside previous legislation and end nearly 700 years of all-male tradition to be sworn in as freemen.
Leah joins not only her mum but also two aunts, Barbara Kingston and Pamela Angus, in the Drapers' Company.
Leah's great grandfather Joseph – affectionately known as Jacob, and her grandfather John, one of three brothers all from the well-known Vasey family, were all freemen. They all lived in the city's Hallgarth Street area at the end of the 19th and start of the 20th centuries.
"My aunts discovered there was a William Vasey who was a warden of the Drapers' Company back in 1783 but have so far been unable to establish any direct family connection," added Leah.