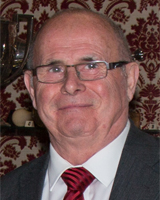 Company: Plumbers
Position: Member
Admitted: 13 Nov 2017
Now retired and living in Staines on Thames, Michael joins his Durham-based older brother Eric who not only leads the plumbers but is also chairmen of the wardens.
Michael left home shortly before his 21st birthday to join the Civil Service at the Royal Naval College at Greenwich before switching to the finance department at the British Overseas Airways Corporation – now British Airways – before taking early retirement at 59. He is married with two sons and he and his wife Lynne are volunteers with a charity working with people with sight and hearing difficulties.
The Bulmer brothers can trace their family history back to Thomas Bulmer who was born in 1800 and went on to establish a brewery in New Elvet. His son Frederick was their first traceable member of the family's freemen, joining in 1851.