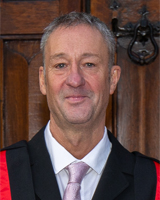 Company: Masons
Admitted: 12 Nov 2018
Nigel, who started as a 16-year-old apprentice mason at Durham Cathedral 40 years ago, hopes the result of their labours will last 200 years.
"Some of the work we have required to produce has been quite intricate, a lot different to what we might routinely be asked to do. But it has been brilliant and I have loved every minute.
"It has given me a great deal of job satisfaction and a finished showpiece I am really proud to have contributed to," said father-of-two Nigel.