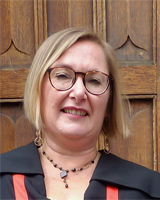 Company: Masons
Position: Member
Admitted: 6 Aug 2018
Niki was recently admitted into the Masons Company on the basis of Hereditary Freedom, after her father, Dr Alan Richardson, joined the company last year.
She was born at Dryburn Hospital in Durham City, educated at St. Leonard's school but later moved to Leeds where she studied English Literature at university and also met her Yorkshire-born husband. She then moved back home to study for a Master's Degree at Durham University. She has two sons – one living in Leeds and the other, following in his mother's footsteps, also studying English at Durham University.
Niki has worked in publishing all her adult life and is now the Head of Publishing and New Product Development for an international publishing company in Yorkshire.ospital
Niki makes regular visits back to Durham and has strong ties with the city. She is very proud to be a Freeman of Durham and is a strong ambassador for the city and county.