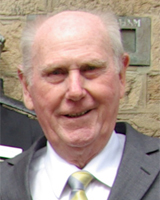 Company: Masons
Position: Member
Admitted: 7 Aug 2017
Eighty-five-year-old Norman Johnston – known to his family and friends as "Syd" - started work as an apprentice bricklayer with Durham Rural District Council in 1952.
At the age of twenty-one Syd joined the Royal Military Police to complete National Service and after four months of basic training was despatched first to Japan and then on to Korea shortly after hostilities had concluded.
His duties, however, took him on foot patrol into North Korean villages and he witnessed the repatriation of hundreds of British prisoners of war after their release from captivity.
After two years in the Army he returned to his home city and his job with the rural council before marrying his wife Jean. The couple's daughter Angela works for the BBC in Newcastle across radio and television.
"More than sixty years have passed but it's better late than never and provides an opportunity for my daughter to follow in my footsteps into the Mason's Company," said Syd, who retired from work 20 years ago.