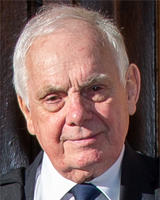 Company: Butchers
Position: Gentleman Freeman
Admitted: 4 Feb 2019
Until he retired professionally, just over six years ago, Norman was a senior partner in the firm of BHP Law where he spent most of his working life.
Born in Salford, the son of a GP, he arrived in the city in 1948 following two years in the Scottish Borders. He was a day-boy at Durham Chorister School before switching to Durham School at the age of 13 and then went on to study at Durham University's St Cuthbert's Society, leaving with a BA.
It was while at university he first took an interest in law, benefiting from the encouragement of one of his tutors, Dr Leo Blair, a practising barrister, whose son Tony went on to become Prime Minister.
Following university he was articled to a Darlington firm of solicitors and after qualifying joined L.J. Heron and Company in Durham - later to become Burt, Hart and Pratt and now known as BHP Law.
During his long legal career 76-year-old Norman was, for more than a decade, the city's Deputy Coroner, working in support of the firm's then senior partner, Lance Heron and subsequently Geoffrey Burt who filled the lead role.
He was vice-chairman of Finchale Training College for many years and a trustee of the Durham Union Society. He also sat as a member of two health service trusts and the Abbeyfield Society and remains a Rotarian in the city.
His wife Jennifer, a doctor, worked at Dryburn and Chester-le-Street Hospitals. The couple, who live in Durham, have two daughters and four grandchildren.
Gardening remains his key leisure activity after he surrendered his interest in motoring racing when he sold his rare 1936 MG which he drove, when occasion allowed, at Brooklands and Croft. The car had appeared at the Goodwood Festival and featured on television in one of the Father Brown Series.