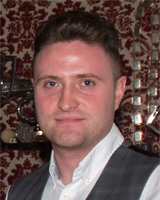 Company: Joiners
Position: Member
Admitted: 13 Nov 2017
Peter Bennett, who benefitted from a financial sponsorship package from the freemen that underpinned a three-year joinery apprenticeship at Durham Cathedral that began in 2012.
In the summer of this year Peter, from West Rainton, switched to a new job at Meadowfield where he is now developing new woodworking skills as an organ builder with the internationally renowned company of Harrison and Harrison. Twenty-three-year-old Peter has already had his first taste of international travel – journeying to Norway with a team tasked with re-assembling and installing a new organ.
Peter's employment at the cathedral, served entirely within the city boundary, qualified him to apply for entry into the Joiners' Company – established in 1661. The freemen's investment was the first project of its kind in recent years that took them directly back to their trade and craft roots.