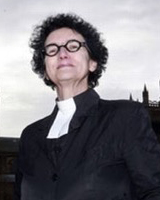 Company: Joiners
Admitted: 3 Feb 2013
The Reverend Joan Donkin, aged 65, has served for the last decade in a parish some 70 miles west of Stockholm.
She has worked alongside Mother Teresa on the streets of Calcutta, preaches to her flock in a clown's uniform and is a dab hand at both decorating and joinery.
As a girl, she helped her father in his cellar workshop at their home in the city and is comfortable decorating and wallpapering, thanks to the influence of my mother Ada.
She said: "I like to think that working with my dad helped me become the DIY enthusiast I am today.
At the age of 21 she did voluntary service overseas, spending 18 months in Papua New Guinea before going to Australia. That was followed by a year in a Liverpool school before teaching English at Stockholm University for two years.
In the 1970s she was an education officer at Coventry Cathedral and it was there she had her first contact with visiting members of the Swedish Lutheran Church.
She went to India with the Anglican Church, to help build up schools on the pavements of Calcutta for children of poor families living in cardboard homes, and it was there she first met Mother Teresa.
"Mother Teresa came to the cathedral and when she found out what I was doing, invited me help at a home for the dying where she was involved.
"There were no beds, it was always full and there was little money, but I worked there as a volunteer for a year in my spare time," she added. When Joan returned from India, she renewed contact with the Scandinavian clergy and in 1980 agreed to work for a Swedish bishop as an advisor on using the arts in worship.
"I went initially for three years and 33 years later, I am still there," she added.
Joan was ordained deacon in 1987 and continued her work in the parishes.
After taking a masters degree in theology at the University of Uppsala in Sweden, she was ordained 10 years ago and took up her present appointment.
For years she had worked as a clown, particularly with critically ill children in a Swedish hospital.
She has written a book on the subject and the use of humour in church.
"I think far too many of today's clergy take themselves far too seriously.