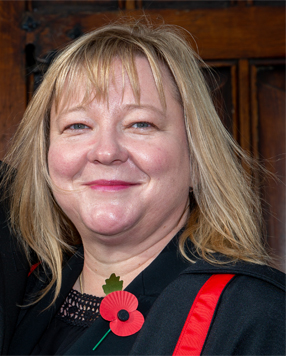 Company: Plumbers
Position: Freeman
Admitted: 7 Nov 2022
Deborah is Director of Care at St Teresa's Hospice in Darlington.
She follows hot on the heels of 78-year-old dad Charlie, who was admitted into the Plumbers' Company in February of this year. His working life helped maintain and improve the cathedral, castle, churches and university buildings, including the replacement of a copper dome on the Observatory.
Deborah went to school in the city and was awarded a degree in theology by St Andrew's University before undertaking post graduate studies in social work at Hull.
Her 25 years as a social worker started in Stockton, followed by service as a Macmillan social worker covering Teesside before moving to St Teresa's 15 years ago, initially as social worker and family support team manager before the appointment to her current role.
She was ordained in Durham Cathedral in 2008 and since then has served as an associate priest, on a voluntary basis, alongside her role in the hospice.
As a Church of England Minister in Secular Employment she supports the work of the clergy at St Edwin's Church, Coniscliffe and St Mary's, Piercebridge. She is married with an eight-year-old daughter.