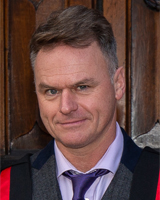 Company: Masons
Admitted: 12 Nov 2018
51-year-old Steven, who hails from Essex, the work has been the culmination of a life-changing decade which started when he first came to the north east to start on a painting contract in Gateshead.
It was during a day trip to Durham he had a chance meeting with supervising staff at the cathedral and asked about the prospect of work. He was offered a job as a stonemason's labourer and went on to become the oldest apprenticeship mason in the region. He has since been awarded a foundation degree in stonemasonry and is currently a sub-foreman on the masonry team.
"I was overwhelmed when I first saw the cathedral. Since then I have worked very hard to get where I am and feel very fortunate to be involved with this beautiful World Heritage Site, working with a team of outstanding craftsmen," said Steve.