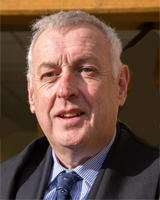 Company: Drapers
Position: Warden Of The Drapers Company
Stuart Magee is 55 years of age and has lived in Durham all of his life. He was educated St Margaret's Primary School and Whinney Hill Secondary School. He became a Freeman when he was 21 in 1980 and was installed into the Drapers' Company with his twin brother. It is likely that is the first and only time that twins have become Freemen on the same occasion.
Stuart has been married to Diane for 28 years. Before he retired Stuart worked as a Civil Servant in several Government Departments including 21 years at HM Land Registry.
Both his father and his uncle held this position in the past. Stuart is proud to maintain the family's active involvement with the City of Durham Freemen.