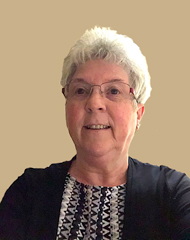 Company: Joiners
Position: Member
Admitted: 14 May 2012
Theresa has strong family ties to the Durham City Freemen, her late great grandfather W.R Brown, and her late grandfather C R Brown were Freemen. She is also niece to the late J R Brown and cousin to the late R.R Brown both Freemen.
Theresa was born in Durham, and lived and worked in Durham in clerical and accounts departments all her working life.
On leaving Whinney Hill School at 15, Theresa started work at Joshua Wilson Bros Head Office in Gilesgate Moor, a food distribution company to small local convenience stores in Co Durham, where she became the supervisor of the Purchase and Sales ledgers before leaving to start her family in 1974 raising three boys who are all Freemen
Theresa returned to work in 1990 being employed at Topline Recruitment Services in their accounts / wages department. In1996 Theresa started work at HMP Frankland, having duties on the Switchboard, with custody/prisoner monies, and the probation and HR department.
In 2001 she left to work with husband's business, giving her more time to work with the student properties she owns. Theresa retired in 2005 to enjoy visiting and spending time with her children and grandchildren, all of which live in different parts of the country.
Theresa enjoys driving, reading and social evenings with friends.