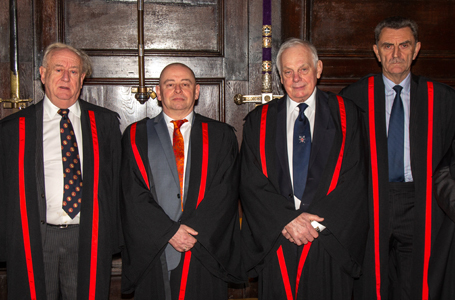 Two distinguished and widely respected members of Durham's professional community have been honoured by one of the city's oldest institutions – after being sworn in as Gentlemen Freemen.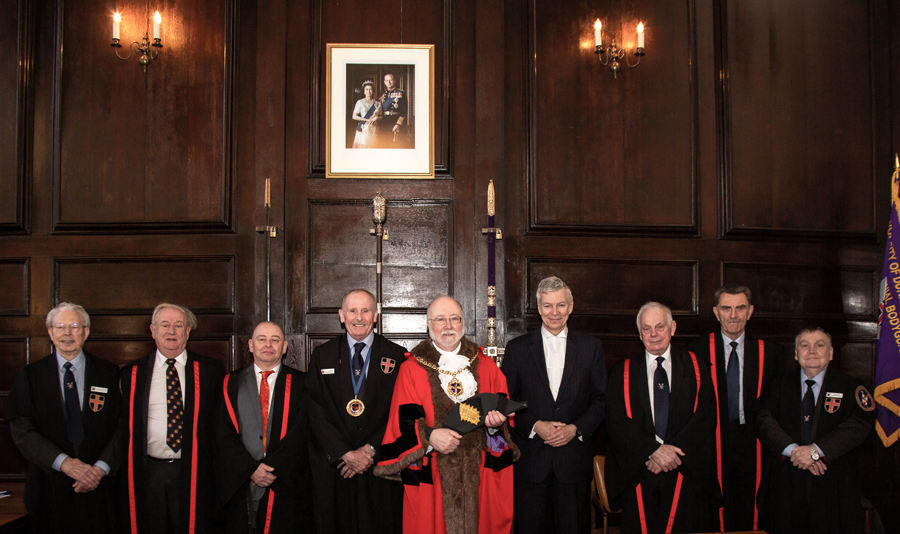 Until they recently stepped down solicitor Norman Hart and chartered accountant Alan Ribchester served as independent trustees, overseeing the official business of the City of Durham Freemen.
The rarely awarded accolade is public acknowledgement of that work, marked by the gift of direct admission to the ranks of the Freemen, whose guilds are believed to date back to the early 14th century.
The two men were officially sworn-in at an ancient ceremony in the Town Hall, presided over by the Mayor, County Councillor John Lethbridge.
Norman served for his last two years as a trustee as chairman, while Alan, who headed a firm of specialists in the city, will continue to offer his expert financial advice to the organisation's charitable trust.
Until he retired professionally, just over six years ago, Norman was a senior partner in the firm of BHP Law where he spent most of his working life.
Born in Salford, the son of a GP, he arrived in the city in 1948 following two years in the Scottish Borders. He was a day-boy at Durham Chorister School before switching to Durham School at the age of 13 and then went on to study at Durham University's St Cuthbert's Society, leaving with a BA.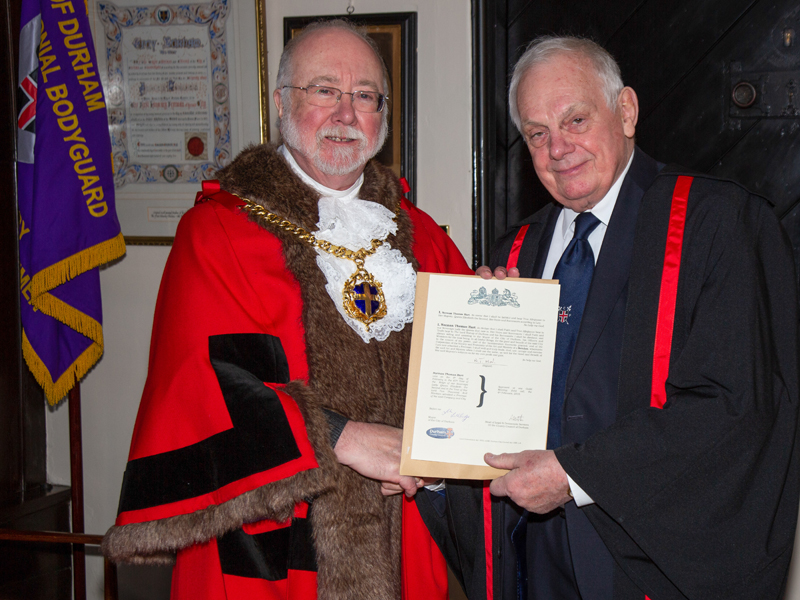 It was while at university he first took an interest in law, benefiting from the encouragement of one of his tutors, Dr Leo Blair, a practising barrister, whose son Tony went on to become Prime Minister.
Following university he was articled to a Darlington firm of solicitors and after qualifying joined L.J. Heron and Company in Durham - later to become Burt, Hart and Pratt and now known as BHP Law.
During his long legal career 76-year-old Norman was, for more than a decade, the city's Deputy Coroner, working in support of the firm's then senior partner, Lance Heron and subsequently Geoffrey Burt who filled the lead role.
He was vice-chairman of Finchale Training College for many years and a trustee of the Durham Union Society. He also sat as a member of two health service trusts and the Abbeyfield Society and remains a Rotarian in the city.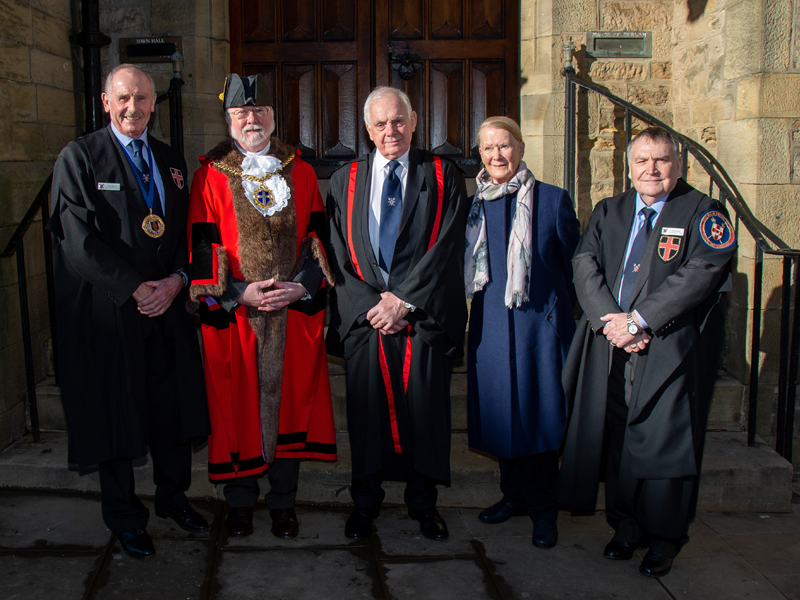 His wife Jennifer, a doctor, worked at Dryburn and Chester-le-Street Hospitals. The couple, who live in Durham, have two daughters and four grandchildren.
Gardening remains his key leisure activity after he surrendered his interest in motoring racing when he sold his rare 1936 MG which he drove, when occasion allowed, at Brooklands and Croft. The car had appeared at the Goodwood Festival and featured on television in one of the Father Brown Series.
Seventy-three-year-old Alan has lived in Durham all his life and he and his wife Gina have two sons and four grandchildren.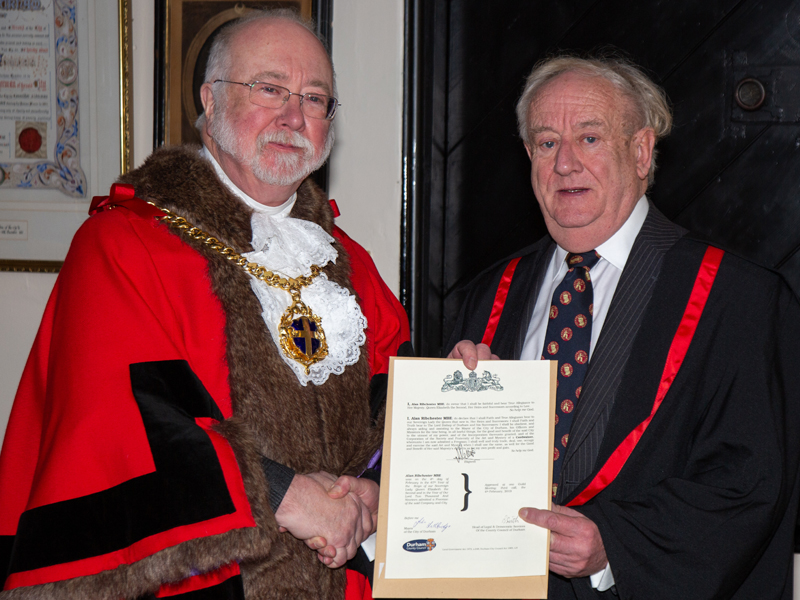 Until his recent retirement he headed a practice now based on the Belmont Business Park currently employing four partners – one of them his son Robert - and a staff of 20. He has also played a key role in the development of Ribchester, Smith and Law, an accountancy firm based in Newcastle's Stowell Street, serving the area's Oriental community and staffed entirely by Chinese speaking financial advisers.
After leaving the Durham Johnston Grammar School in 1963 with three A-levels, he was articled to a large firm of chartered accounts on Tyneside until he qualified four years later. In the early 1970s he took charge of his own company in Durham, operating for many years from offices in Saddler Street.
For 30 years Alan was District Treasurer of the Durham Scouts, the Durham Citizens Advice Bureau and a Director of the Indoor Market and remains company secretary. For more than two decades has been Treasurer of the Shakespeare Temperance Trust in North Road and a Trustee and Honorary Treasurer for Durham Rotary Club. He has also been a long-standing Trustee of Durham Union Society and member of the Finance Committee of the Governors of Northumbria University.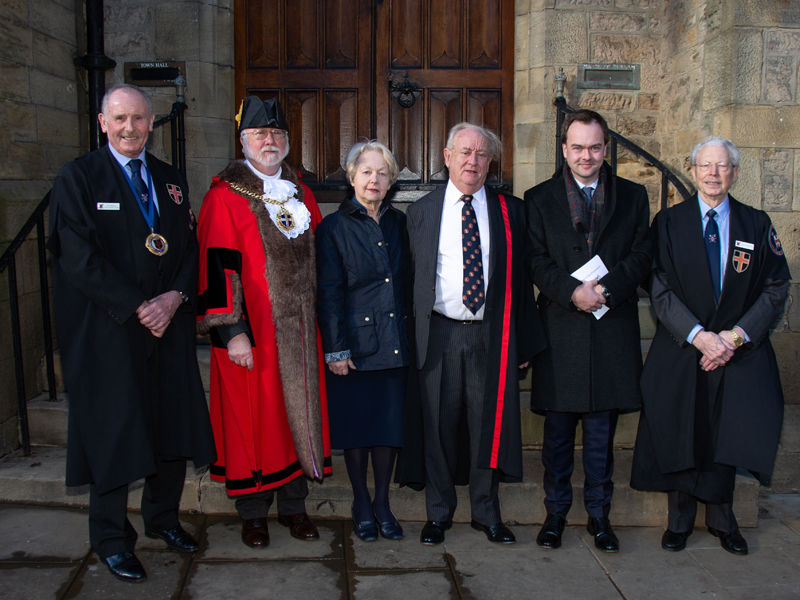 Ten years ago he was awarded an MBE for his charitable and community work within the city.
He remains a member of the Mayor's Bodyguard and when he became a freeman's trustee his experience was immediately called on to steer the organisation through new Charity Act regulations to qualify for charitable status – a move which significantly increased the freemen's ability to offer financial support to a wide range of organisations across the city.
A third recently retired trustee, journalist George Oliver, was also sworn in as a Gentleman Freeman.
Now aged 72, he started work as an indentured trainee journalist in the city in the mid-1960s and over the years his work has been widely published in regional and national newspapers. He has been a contributor to both regional radio and television and was also involved in the BBC's expansion of the local radio network in the late 60s, producing broadcast material and interviews for Radio Durham – the experimental forerunner of current stations on Tyneside, Teesside and Cumbria.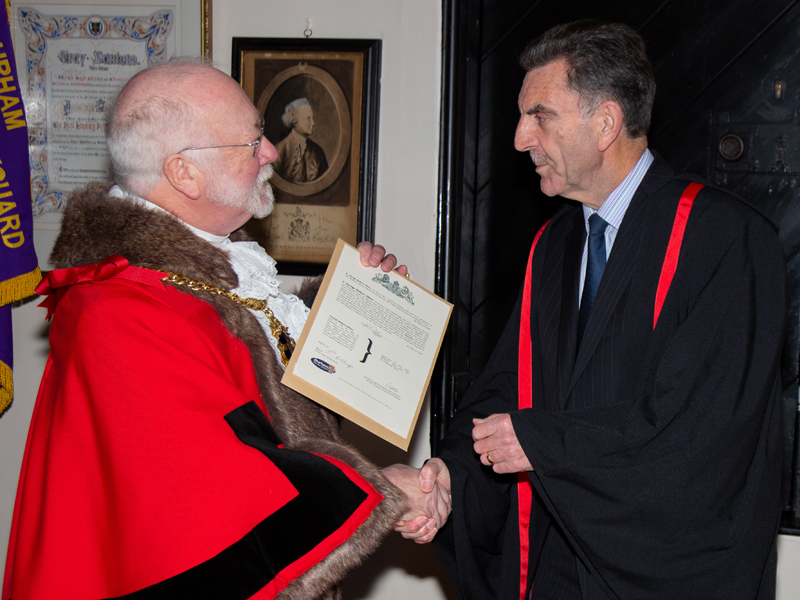 In 1986 he was directly commissioned into the Light Infantry and was one of the first journalists recruited by an expanding part-time specialist unit, now known as the Army's Media Operations Group (MOG). Assignments took him across the UK and mainland Europe until he left the Army ten years later.
For 17 years, until his retirement in 2009, he managed Durham Constabulary's Press and Public Relations unit and received unsolicited awards from north-east journalists and a commendation from Durham's Chief Constable.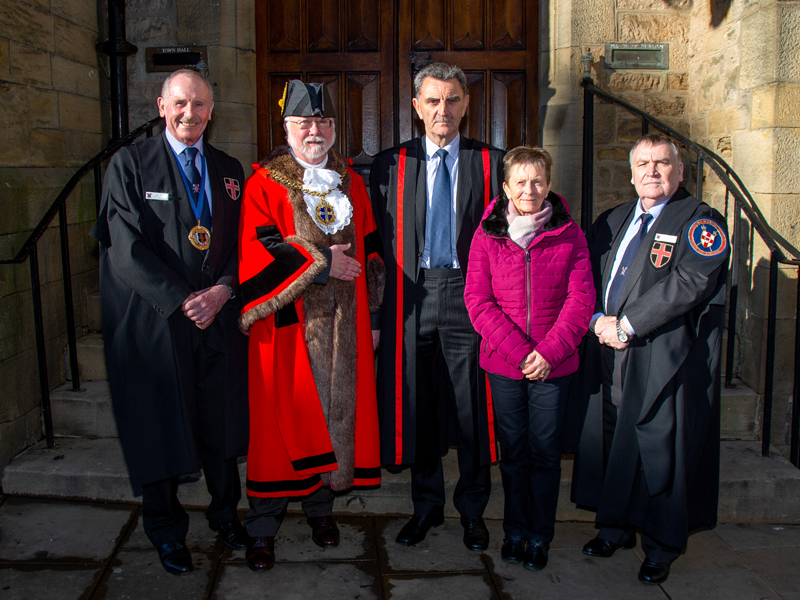 George, who can trace his family links back through three generations of Durham miners, is married, lives in Durham with wife Maureen and has a daughter, son and four grandchildren who all live locally. He pursues a life-long interest in fishing for trout, sea trout and salmon, tying the majority of his own flies.
Chairman of wardens, Eric Bulmer, said: "It has been a privilege to work closely with all three trustees who have provided many years of dedicated service to the Durham City Freemen. Their inclusion into the ranks of Gentlemen Freemen is well deserved and a fitting tribute."