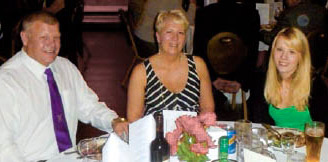 Our Annual Dinner was held on 4 October 2014 in the Town Hall and was another most enjoyable evening. The dinner has been organised single handedly for over 10 years by our Chairman of Trustees, Roger Norris, to whom we all owe a great debt of gratitude. This was the last Dinner that Roger will be organising. I hope that my appeal for support set out below results in the establishment of a team to organise the 2015 Dinner and beyond.
We are also grateful for the help and support of all of the Town Hall staff and our caterers T&I Bell.
Our special guest this year was His Honour Judge Peter Armstrong and his wife Joanna. Peter is a Circuit Judge presiding over courts in the Teesside area. His talk was witty and absorbing and well received by the eighty or so guests.
We were also joined by The Worshipful Mayor of Durham City, John Robinson and his wife, The Mayoress, Maxine Robinson.
Stephen Healy represented Freemen of England and Wales. Freemen from the City, the region and across the country were in attendance including Hazel Hague, Master elect to the Freemen of York and Alan Webb, Past Dean of the Guildry of Stirling.
John Heslop - Chairman of the Wardens