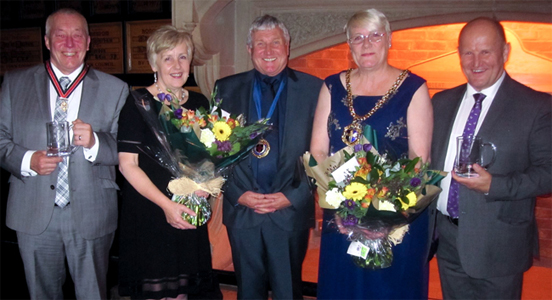 Durham City Freemen held their Annual Dinner on 3 October. There were 60 guests which included local Freemen and their guests as well as others from around the country.
We were also joined by friends from other Guilds and by representatives of the Freemen of England and Wales. We were delighted to welcome the Worshipful Mayor of Durham City, Councillor Jan Blakey and her Consort and husband Alan Blakey. Our principal guests were Mike Barton, Chief Constable of Durham Police and his wife Maggie.
The evening began with a sherry reception after which there was a four course meal.
After the meal a Toast to the health of the guests was proposed by Norman Hart, the recently appointed Chairman of our Trustees. The Mayor was then presented with a cheque for £1000.00 as a donation to her Charity Appeal which this year is in support of Trinity School at Aykley Heads. The Mayor proposed a toast to the City of Durham.
We were then treated to a thought provoking talk from Mike Barton who outlined his ideas about policing in the 21st Century, touching on restorative justice and radical approaches for dealing with drug offenders.
The evening was closed by the presentation of flowers to the Mayor and Mrs Barton and commemorative tankards to Mike Barton and Alan Blakey.