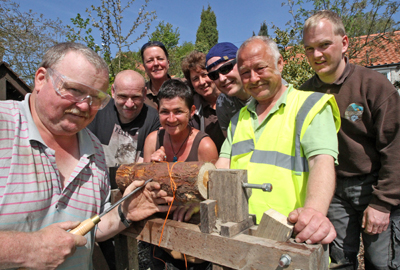 A major donation from the City of Durham Freemen has enabled a groundbreaking community project to plan for the future – by stepping back in time.
A £7,000 grant from the freemen has underpinned ambitious new developments at workshops run by the LionMouth Rural Centre, including the revival of the ancient woodland craft of bodging.
Operating from Broadgate Farm, near Esh Winning, on a seven acre site of woodland and meadows that was, until three years ago, largely neglected land, the project offers support and training to local people suffering or recovering from mild to moderate mental, social or learning difficulties.
Up to 60 people a month, whose ages range from 14 to 64, take advantage of placements offering sessions in woodwork, horticulture, art, pottery, conservation and cookery.
Launched with an initial grant from the Tudor Trust, the work is led by two full-time staff and supported by two part-time employees, one of them a catering trade apprentice. Additionally there are 16 volunteer helpers and three sessional supervisors who work under contract. The operation is overseen by a four-strong board of directors drawn from the local area.
A range of plants, herbs and shrubs propagated in the nursery, along with pottery and furniture from the workshops are offered for sale directly to the public.
The freemen's cash injection will pay for a range of tools to extend the capability and range of the centre's woodworking sessions. They include a pole lathe and shave horse, two key pieces of equipment used by bodgers - craftsmen who once operated in forest workshops transforming green unseasoned wood into chair legs and other furniture parts.
Additionally the money will provide a new cover for one of the horticultural poly-tunnels, landscaping and strengthening vegetable growing terraces and improving a barn where pottery and glass making kilns are sited.
Project manager Brigid Press said: "The people we serve are those who have been ill, have gone through the system and do not qualify for further care and are not well enough yet to go into employment. Many still suffer from high levels of anxiety and lack confidence. We have also recently taken on a new group of clients with mild learning difficulties who are between home living and moving into sheltered accommodation.
"We try to make as many links as possible with local organisations, community projects, as well as social service and health teams within Durham.
"When we started much of our activity revolved around horticulture and working outdoors. Now we have a large clay and small glass kiln and are experimenting with woodworking ideas and furniture. Ultimately our aim is to be self-sufficient by selling what we produce to the public."
Chairman of wardens Eric Bulmer, said: "Over the last five years we have provided grants totalling £100,000 to community projects in the city and we feel privileged to have given our help to such a worthwhile organisation.
"Lionmouth's dedicated staff and volunteers provide a social, learning and caring environment for a vulnerable and often overlooked group within our society. I hope our support will go some way to unlocking the potential of this wonderful site."