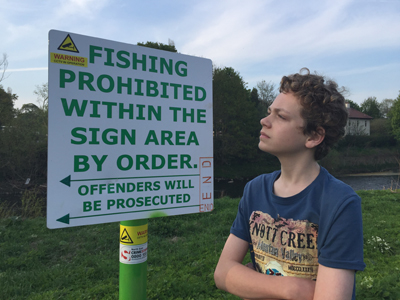 Signs, formally underlining the introduction of a total fishing ban on a stretch of the River Wear in the centre of Durham City, are now in place – offering clear warning to salmon and sea trout poachers they risk arrest by police.
The erection of the signs follows a unanimous decision taken in January by the Trustees of the City of Durham Freemen – and endorsed by the wardens - to end all free fishing on a 600-yard stretch of the southern bank of the river. The move was made to combat what conservationists had condemned as "poaching on an industrial scale."
Last summer the 6,000-strong Wear Anglers' Association invited the freemen's trustees – who control access to the riverbanks - to take action to protect dwindling fish stocks. Their plea was also subsequently supported by Durham Constabulary, the Environment Agency and Durham County Council.
The erection of the signs, which cover the riverbank between the weirs in Framwellgate Waterside and a downstream point on The Sands known as the "Pink House," completes the legal process and hands police powers under the Theft Act to arrest anyone who fails to comply.
The trustees' intervention is timely given the first major runs of salmon and sea trout, on their way upriver to spawn, usually make their appearance in May. The runs continue well into the autumn and throughout that time fish are particularly vulnerable to illegal fishing methods when they are held by low water in pools below the weirs. Poaching gangs, as well as individuals, operate both in broad daylight and at night, and have been taking many hundreds of fish to sell commercially.
"We hope responsible anglers who have fished the area quite legally will accept this is the only way to tackle the criminality which has plagued the area for years. We feel this was the only effective option open to us," said solicitor Philip Wills, the clerk to the Freemen's trustees.
A 350-yard section of the river banks at the eastern end of The Sands has been set aside by the trustees to allow law-abiding anglers to continue to enjoy free fishing away from the poaching hotspots.