A north east academic, who has led ground-breaking research into the development of self-repairing concrete, was one of the four latest newcomers to be sworn in as freemen at the Martinmas Guild Day.
Concrete Academic Cements Long-Standing Family Ties
A north east academic, who has led ground-breaking research into the development of self-repairing concrete, was one of the four latest newcomers to be sworn in as freemen at the Martinmas Guild Day (November 13)
Dr Alan Richardson, an associate professor of civil engineering at Northumbria University, was brought up in the family construction business in Durham City and mixed his first batch of concrete at the age of ten.
The breakthrough in his team's academic work relies on the introduction of cultivated bacteria into the concrete mix that provides the catalyst for a self-regeneration process which enhances durability and reduces life-cycle costs.
Another stream of research is attracting interest from the Ministry of Defence who are considering funding further development of his findings – which, with the introduction of 3D fibres, will provide an added toughness to the product that can significantly reduce fatal and serious injury, as well as collateral damage by reducing "flying concrete shrapnel" generated by bomb blasts.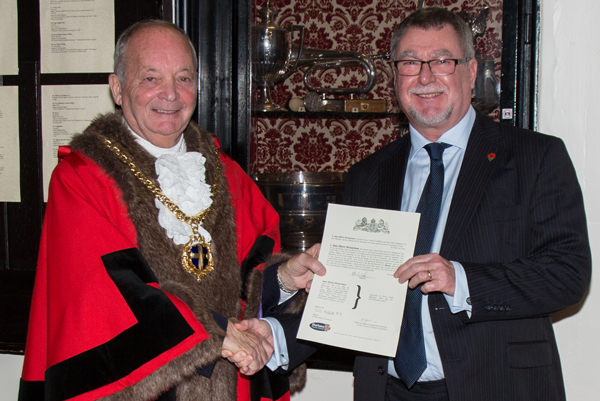 Sixty-five-year-old Dr Richardson, who lives on the outskirts of the city, took over as managing director of the family business in 1973 at the age of 21 following the death of his father. He stayed until 1996, collecting national awards along the way, before leaving to take a teacher training course.
That move led to further study for a master's degree in project management at Northumbria University before he went on to complete his doctorate in civil engineering at Newcastle University nearly ten years ago.
The links of his extended family stretch back to the early 1800s and Dr Richardson said it was "an absolute joy" to follow his grandfather Ralph into the Masons' Company. "I have been really looking forward to it," he added.
He was a great inspiration in my life, a real gentle man who fought in World War 1 and never talked about it. I have vivid childhood recollections of him standing at a wooden kiosk on The Sands taking admission money on behalf of the freemen for entrance into the Easter Fair," he said.
When Judith Magee stepped forward to take the oath she too reinforced a long-standing family tradition in the Drapers' Company started by her grandfather - a time-served city tailor - more than a century ago.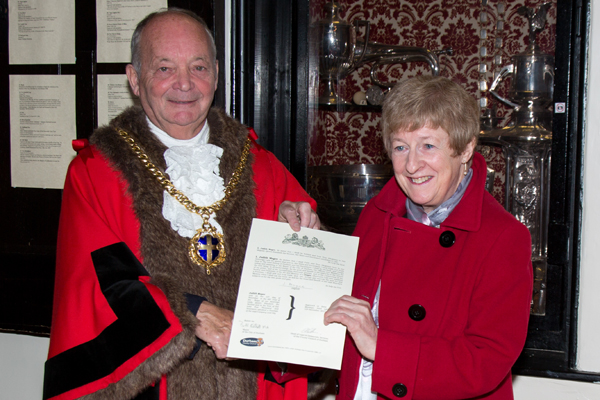 Her dad James, a warden of the drapers and a well-known figure in the city, started his working life as a post office telegraph boy and was responsible for the supervision of sub post offices across the city when he retired.
He followed his dad into the company at the age of 21 and died a year ago aged 90. His sons, Stuart and Andrew, made city history in 1980 when they became the first twins to become freemen. Stuart is the drapers' current warden.
Judith, aged 62, retired more than a year ago after spending 36 years of her working life as a laboratory technician in Durham University's Chemistry Department.
She has always lived in the city and after being awarded a chemistry HND at what is now Northumbria University took her first job with a pharmaceutical company in Cramlington where she stayed for three years.
Retirement has provided her with the opportunity to travel extensively in the past year – taking separate trips to Colorado and Arizona, as well as visiting to Kent, Cornwall and Scotland.
And family ties were very much in evidence when Michael Bulmer took the oath that admitted him to the Plumbers' Company.
The 72-year-old, now retired and living in Staines on Thames, joins his Durham-based older brother Eric who not only leads the plumbers but is also chairmen of the wardens.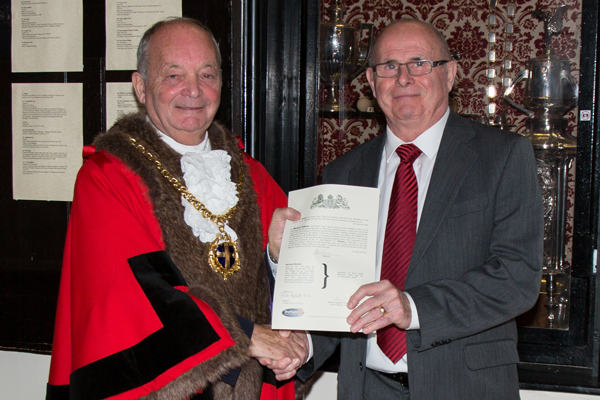 Michael left home shortly before his 21st birthday to join the Civil Service at the Royal Naval College at Greenwich before switching to the finance department at the British Overseas Airways Corporation – now British Airways – before taking early retirement at 59. He is married with two sons and he and his wife Lynne are volunteers with a charity working with people with sight and hearing difficulties.
The Bulmer brothers can trace their family history back to Thomas Bulmer who was born in 1800 and went on to establish a brewery in New Elvet. His son Frederick was their first traceable member of the family's freemen, joining in 1851.
The fourth newcomer is Peter Bennett, who benefitted from a financial sponsorship package from the freemen that underpinned a three-year joinery apprenticeship at Durham Cathedral that began in 2012.
In the summer of this year Peter, from West Rainton, switched to a new job at Meadowfield where he is now developing new woodworking skills as an organ builder with the internationally renowned company of Harrison and Harrison. Twenty-three-year-old Peter has already had his first taste of international travel – journeying to Norway with a team tasked with re-assembling and installing a new organ.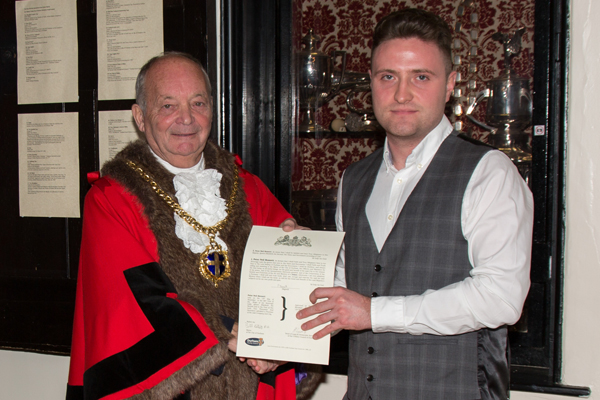 Peter's employment at the cathedral, served entirely within the city boundary, qualified him to apply for entry into the Joiners' Company – established in 1661. The freemen's investment was the first project of its kind in recent years that took them directly back to their trade and craft roots. It has since been followed by similar sponsorship for an apprentice joiner within Durham University's Estates Department.