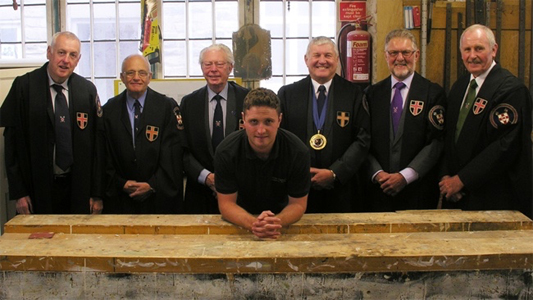 A former apprentice at Durham Cathedral says he cannot thank the Durham City Freemen enough, after they sponsored his training to become a qualified joiner.
Peter Bennett has just been employed full time as a joiner by Durham Cathedral having undertaken a three year-long apprenticeship with the Cathedral's works yard team.
Peter said: "I was doing joinery at New College Durham when I heard about the apprenticeship at Durham Cathedral, so I applied and was so pleased to be offered the place. I started on 26 March 2012 while continuing to study for my joinery qualification at college."
Under the watchful supervision of Bob Matthews and Iain Wilmshurst, Peter began putting his training into practice on the job, carrying out tasks in general maintenance and repair at the Cathedral and its properties as well as building a brand new gate for the riverbanks from scratch. He qualified as a Level 3 Advanced Apprentice in Bench Joinery and was also awarded 'Apprentice of the Year' for joinery – from New College Durham.
Works Yard Manager, Iain Wilmshurst, who oversees the work of all the Cathedral tradesmen, said: "Peter was a very dedicated apprentice and worked really hard at everything we asked him to do. He also had an understanding and respect of the history and heritage of our Cathedral and properties and all of those things combined made him the perfect choice to become a full-time member of our team – we were delighted to offer him a job."
And the job isn't the only offer that Peter was made, the Durham City Freemen are also offering Peter the chance to become a Freeman now that he has qualified. Joe McElwee from the DCF said: "We were delighted to be able to fund the apprenticeship post at Durham Cathedral and because Peter has served his apprenticeship within the city walls, he is also eligible to become a Durham City Freeman, so we were pleased to offer him the chance to join us, which he will be doing at our next inauguration."
Peter follows in the footsteps of his manager Iain Wilmshurst and fellow joiner Tony Swallow both of whom started apprenticeships at Durham Cathedral in their late teens and have gone on to become long-serving employees of the Cathedral. Iain is already a Freeman of Durham City and Tony will join Peter at the next ceremony as a new Freeman.
Peter said: "I'm so grateful to the Freemen for providing me with the opportunity to train as an apprentice because without it I would have been another of the many qualified joiners still looking for work.
"I'm thrilled to have now been offered a post as an employee here at the Cathedral. The team are so lovely and when you work here, no two days are the same and nothing is standard because of how old this building is, so it's great to build up so many varied skills and experiences."
For more information about corporate sponsorship opportunities at Durham Cathedral please contact Development Officer Clare Chillingworth on 0191 3744581 or email Clare.Chillingworth@durhamcathedral.co.uk