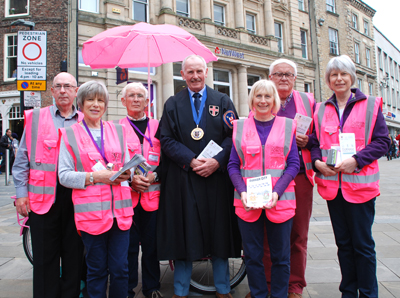 A dedicated group of volunteers, who point the way for tens of thousands of tourists who visit Durham each summer, have themselves been given a helping hand by the City's Freemen.
The work of the Durham Pointers, a sixty-strong group who provide directions and information to visitors, last year earned them a Queen's Award for Voluntary Service. But now they will be even better equipped to meet the demands on their time - thanks to a donation of more than £4,000 from the freemen.
The cash injection will help fund new designs for their familiar pink tabards and a supply of rain wear; 30,000 information leaflets highlighting city centre attractions; a pamphlet on the centuries-old Market Place, including background on the near 700-year history of the freemen; an activity leaflet aimed at young people; and training as well as additional facilities to welcome foreign visitors.
Les Thomson, who chairs the Durham Pointers' Steering Group said: "The City of Durham Freemen have played a significant role in the city for centuries and continue to promote and support Durham today. We are really grateful for the support they have given us which will help continue what we all see as a valuable service. It is an ideal collaboration as both organisations celebrate Durham's heritage as well as everything it has to offer today."
Eric Bulmer, who is chairman of the Freemen's eight surviving trade guilds, added: "We are pleased to support an organisation that has the passion, enthusiasm and commitment to ensure that our city, with its historical heritage, is shared with visitors from both the UK and abroad, as well as providing a valuable service to our region and local communities."
The first trade guilds are believed to have been established in 1327 but the first written confirmation of their existence came over a century later. Over the past five years the Freemen have given £100,000 in grants to community projects within the city's boundaries.
The Pointers' volunteers each commit to giving at least two hours of their time every fortnight and are on the streets seven days a week between early summer and late autumn.