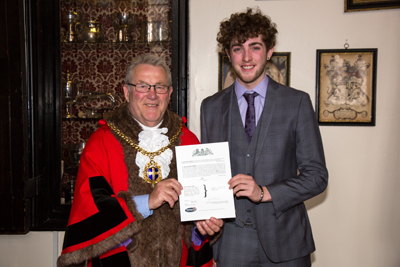 A-Level student Jack Elliott became one of the youngest freemen in Britain when he was sworn-in at a ceremony in Durham's Guildhall ( May 8th). But his notable achievement was tempered by the knowledge that his sister Beth is still believed to claim the honour of being the country's youngest – beating him to the title by just 16 days.
Eighteen-year-old Jack, who lives in Great Lumley, applied to become a member of the city's Mason's Company shortly after his 18th birthday last year – following in the steps of Beth, father John, a senior manager with Northern Power Grid, and paternal grandfather Bob, the warden of the company.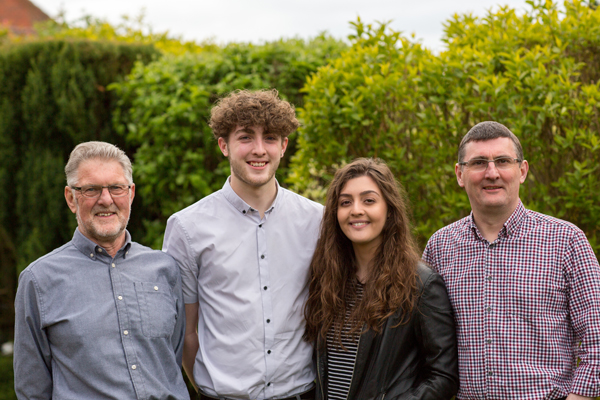 The process required his name to be called, without objection, at three separate Guild Days before he could be formally admitted – a process in his case which took 227 days. Beth, who fired off her application immediately after her 18th birthday on July 6th, 2014 while still at school, took the oath of allegiance 211 days later.
"We have always quite competitive and I was mildly disappointed to miss out but content the title appears to be staying in the family for the foreseeable future," said Jack, a pupil at Park View School in Chester-le-Street.
Jack is currently preparing to sit A-levels in biology, chemistry and maths over the next few weeks and hopes to take up a career in research laboratories in the pharmaceutical industry advancing the cause of medical science. This summer he will join a scientific survey team in the rain forests of Honduras examining the habits of bats and other small mammals. A second week will be spent scuba diving surveying marine life off the country's coast.
"Living in the rain forest without running water and most of comforts of home will be quite a challenge but I am really looking forward to the whole experience," added Jack.
Beth was a pupil at the same school until the summer of 2015 before she left to take up a place at Leicester University on a five-year course reading medicine. She hopes to become a doctor.