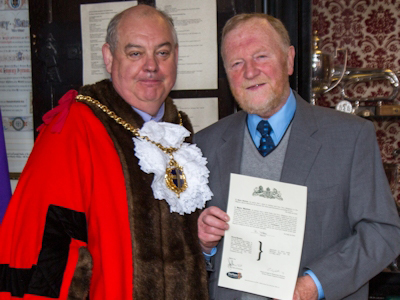 Retired field service engineer Barry Shotton was admitted into the Cordwainers'Company at the May Day Guild Day.
Sixty-eight-year-old Barry started his working life in 1961 as an apprentice electrician with Durham Rural District Council and went on to work underground at Eppleton Colliery before joining Lansing Bagnall, where he remained until his retirement.
He lives with his wife Margaret in a village on the outskirts of the city. The couple have two sons, a daughter and a four-year-old grandson.
Barry applied to join the ranks of the freemen after a friend suggested his apprenticeship served within the city boundaries would qualify him for membership.
"Although I was well aware of the freemen's existence and a little of their history, I never gave joining any serious thought because I knew there were no electricians around 700 years ago," joked Barry.
He joins brother-in-law Bob Clarkson, a time-served joiner before becoming a police officer, as well as Bob's sons Andrew and Nigel who followed their dad into the Joiners' Company.