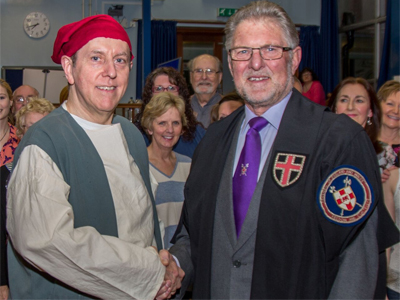 Durham's oldest performing arts company, facing a fight for survival, has been thrown a financial lifeline by the city's freemen.
The award-winning Durham Musical Theatre Company, formed in 1908, is, staging a programme of glittering three-hour shows at the Gala Theatre in a bid to secure its future.
An ambitious medley from "The best of Britain's musicals" over the last 130 years will be performed by an 80-strong cast facing the challenge of 15 costume changes as they feature no fewer than 60 numbers in each show.
The production is being supported by a £950 grant from the freemen's charitable trust, which will cover the costs of programmes, posters and publicity material.
The company's chairman, Anthony Smith, said: "The freemen's most generous contribution is one of the biggest single donations we have ever received and is critical to the success of what we are trying to achieve.


"We are a non-profit making amateur organisation and total production costs will, this week, run to about £20,000. We try to keep ticket prices as low as possible so the public will not be discouraged from attending. We are extremely grateful to the freemen for their support."
The company has staged two dozen productions at the Gala since it was opened in 2002. Their last four musicals received awards from the National Operatic and Drama Association and were widely acclaimed by the audiences who attended. But these four productions all lost money and two pre-Christmas events at Broom Hill Farm near Witton Gilbert and the Methodist Church in Old Elvet were staged to bolster funds.
John Heslop, one of the five members of the freemen's charitable trust and former chairman of the wardens said: "The freemen are always keen to support local projects and enterprise through its charitable trust. We hope helping the theatre company will not only add momentum to its recovery from recent setbacks but also bring quality entertainment to the people of the city."