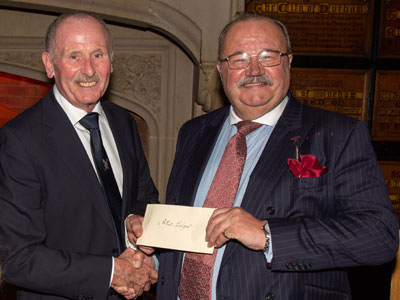 A military spectacle mounted to mark the 100th anniversary of the end of the First World War - and backed by Durham's Freemen - promises to be "the biggest parade seen in the city in living memory."
Hundreds of members of regular and reserve units of the Army, Royal Air Force and Royal Navy, along with members of the fire, police, prison, ambulance and Mountain Rescue services, will take part in a march from Durham Cathedral as part of the Annual Remembrance Parade on Sunday, November 11th.
And, providing an international flavour for the first time, a detachment from a French Naval patrol boat, making a special trip to the region, will join the line-up, while a small party of German schoolchildren will attend the cathedral service.
A £500 donation from the freemen, handed to event organiser Arthur Lockyear by the chairman of the freemen's wardens, Eric Bulmer, has helped underpin the financial arrangements for the event.
"The freemen's generosity in 2017 and again this year helps to continue the expansion of the event. It puts Durham in the vanguard of celebrating the Armistice, marking the centenary in as positive a way as possible and adding to the poignancy of this very special day," said Mr Lockyear, a retired firefighter based in Durham who has worked on similar ceremonies across the region for more than 30 years.
He has assisted "D" Rifles Company with preparations for the Durham City parade since 2014.
Among those included in this year's line-up are members of a Catterick-based training company of Grenadier, Coldstream, Scots, Irish and Welsh Guards; a detachment from the Royal Electrical and Mechanical Engineers and a Gurkha training company, both from Catterick; a Royal Signals unit from Staffordshire; the Household Cavalry from Windsor; members of 607 (County of Durham) Squadron, Royal Auxiliary Air Force from RAF Leeming and Fire Service Standard bearers from across Britain.
Mr Bulmer said: "Many families across Durham have been, and continue to be, touched by the wars of the last century and the armed conflicts of the new millennium. We know the act of remembrance means much to our local communities and we feel privileged to be able to continue to offer our support and respect