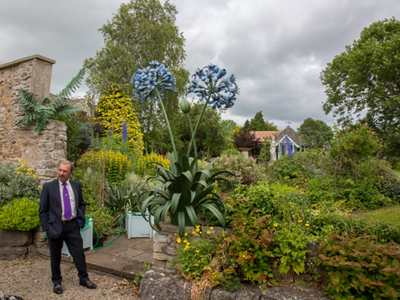 Little Newsham Forge near Staindrop is over 200 years old but ceased being a 'Smithy' around 1920 and was then utilised by a local farm for a variety of purposes including that of the cowshed.
That changed in 1974 when a 24-year-old Arts graduate, born and bred in Durham called Brian Russell started the process of bringing the forge back to life. The visit gave a unique insight into the work of a gifted 21st century Artist Blacksmith.
The Early Years
Little Newsham a small village near Staindrop has changed little in over a century. The Forge is over 200 years old but ceased being a 'Smithy' around 1920 and was then utilised by a local farm for a variety of purposes including that of the cowshed. That changed in 1974 when a 24-year-old Arts graduate called Brian Russell started the process of bringing the forge back to life.


Brian Russell a Durham lad, was born in Framwellgate Moor and attended the local primary school and then the Johnston Grammar School where he developed an interest in art and design. He continued his education by undertaking a degree course at Sunderland College of Art and Backhouse Park, where a technician (a former blacksmith) sowed the seeds that were to develop into an enthusiasm to work with metal and develop the skills of a blacksmith.
Leaving college with his Degree in Fine Art he set his sights on seeking an apprenticeship as a blacksmith, unfortunately at that time there were few blacksmiths operating and non were looking for apprentices. During this time he sought employment and for 18 months drove a van for J M Luke, a long established Baker in Durham City.
While he was working he still had the desire to learn as much as he could about working with metal and attended evening classes at both the Johnston School and St Leonard's School, all the time pestering The Council for Small Industries in Rural Areas for help in following his chosen craft. Eventually in 1974 they asked him if you would be interested in an old forge at Little Newsham and as they say the 'rest is history'. Over the years Brian has developed his skills and incorporated his undoubted talent in design to place himself at the forefront of his craft.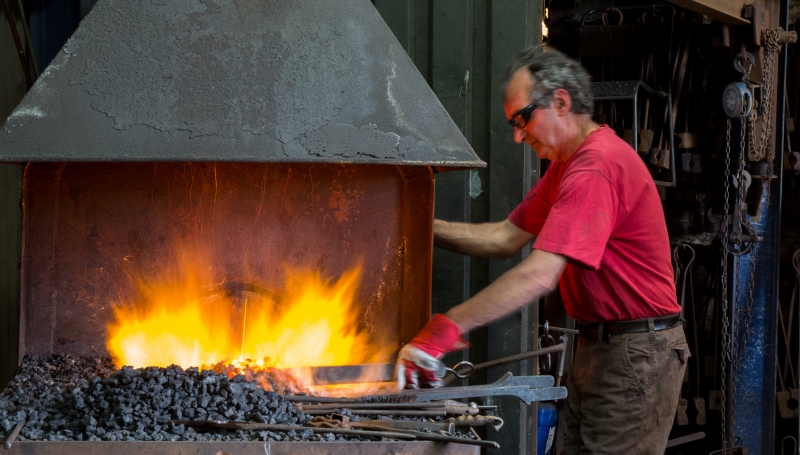 The Visit
Due to the nature of the environment, the size of the group was limited to six members and those taking part were Eric Bulmer, John Booth, Geoff Kitson, Mel Wortley, Joe McElwee and Roger Norris. On our arrival at the Forge we were made welcome by Brian who introduced us to his employee Tom Savage, a local young man from Stockton who was trained at Hereford College of Technology.
Brian gave us a brief history of the Forge and a summary of his development as a blacksmith which was followed by a tour of the building which housed a vast range of equipment. He then drew our attention to his current project, that of decorative railings and described their construction, highlighting that the vast amount of his work is completed without the aid of electric welding but relies on forging and riveting techniques.
The Demonstration
Brian demonstrated to great effect the technique of hot punching a hole in a metal bar, which involved heating the bar until glowing yellow then he proceeded to hammer a slot punch through the metal, followed by a tapered steel drift to open out a square hole, re-heating the bar between operations. The heat generated was such that the chisel and drift had to be plunged into cold water at regular intervals.
He then went on to forge-weld two pieces of metal bar together. He started by heating up the ends of both pieces of steel that were to be joined until they were white hot. Then Brian and Tom each carried a bar to the pneumatic forging hammer, the bars were carefully overlapped, still white hot, and the hammer was brought down to weld the two pieces into one in a controlled manner sending a shower of sparks across the forge.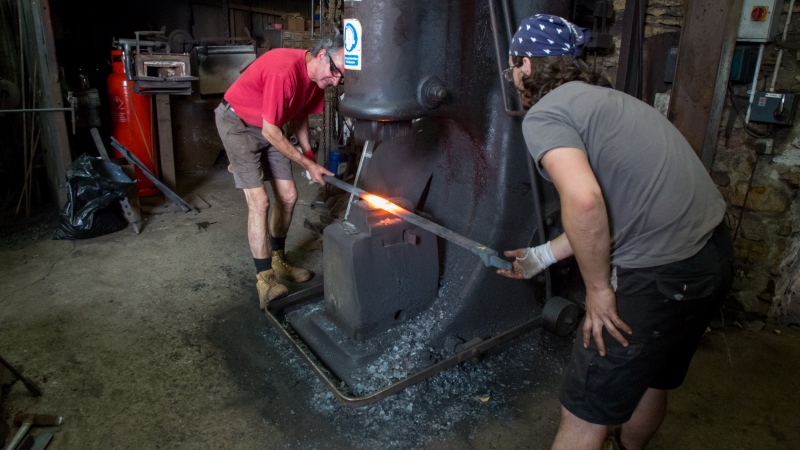 The newly forged joint was turned continually on the anvil as the hammer was repeatedly brought down to shape the bar, and to ensure that it maintained the same dimensions throughout its length. It was fascinating to see such physically demanding work and immense pressure subtly applied so not to distort the metal. It was surprising that during the whole process no spirit level was used and the 'square and levelling process' relied solely on hand and eye co-ordination. What was truly amazing was that from a forge that was full of stock metal, industrial machines and hand tools would emerge beautiful and sensitively designed objects that would not have been out of place in the Art Nouveau period.
Tour of Commissions in situ
Having spent some time in the industrial atmosphere of a working forge, we were delighted when Brian suggested he accompanies us to see examples of his work in a garden a few miles away. Prior to entering the garden we were directed to a beautiful panel of sculptured leaves that was so natural looking that we had to touch them to be convinced they were metal. On entering the garden we passed through elegantly designed gates with plants and flowers springing from the metal structure. Immediately inside the garden stood sculptured foxgloves plants bending and overlapping across an opening to form a natural archway. The centrepiece of the garden was an amazing sculpture of a 7ft Agapanthus plant in stunning colour and complete in every detail, with the added bonus that it will be in flower all year and every year.
We bid farewell to Brian who had to return to the forge and work, while we headed off to Piercebridge for refreshments before heading off to Brancepeth.

St Brandon's Church Brancepeth
St Brandon's Church nestles in an idyllic setting in the shadow of Brancepeth Castle. It was almost completely destroyed by fire in 1998 but following a fundraising campaign and generous grants it was restored. Brian Russell was commissioned to undertake a number of projects within the restoration that included a delightful gate leading to the smaller churchyard, two large flower pedestals within the church and the wonderful screen separating Neville's Tomb from the main body of the church. This major piece of sculpture was so large the only way it could be placed in situ was to completely remove the east window and thereby gain access to the church. I believe the screen although simple in concept is strikingly beautiful and appears to incorporate Neville's warrior past with a lattice framework being sensitively formed from stylised spears.
Throughout our visit Brian continually demonstrated his passion for the craft and had a clear view on design and the capacity to address the challenging characteristics of working with 'stock steel', turning concept into art. A refreshing feature that was apparent during our visit was the friendship and cooperation that existed between craftsmen within his field, where learning and sharing skills/techniques from each other was common practice. This was clearly demonstrated in April when Brian hosted a competition for over 50 craftsmen who descended with their families upon the Forge and a marquee in an adjoining field at Little Newsham.
As a Freeman I was clearly delighted to see young people such as Tom involved in the craft. Tom is the latest in a long line of young people (over 60 during the past 30 years) who have benefited from working alongside Brian, developing skills and techniques that hopefully will sustain the craft in the future. This was the norm many years ago but is sadly missing in the majority of crafts today.
Our thanks go to Brian for making our visit enjoyable, thought provoking and restoring our faith in craftsmanship.