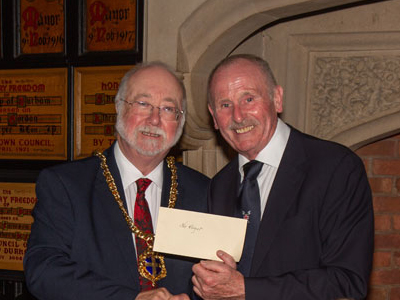 The Mayor of Durham, County Councillor John Lethbridge, has offered his heartfelt thanks to the city's freemen for the boost to his annual charity appeal, which is destined this year to go to the Royal British Legion.
Councillor Lethbridge, a retired teacher, was handed a £1,000 donation by the chairman of the wardens, Eric Bulmer, when he and his wife Sandra attended, as guests, the freemen's annual dinner in the town hall.
The charity provides support to members and veterans of Britain's armed forces, as well as their families and dependents and was chosen, said Coun Lethbridge, because of the "historical significance" of its work this year.
"I have a growing awareness, through the events I have attended and the contacts I have made, of the breadth and purpose of this charity. It is with gratitude and a degree of humility that I accepted the freemen's very generous donation," he added.