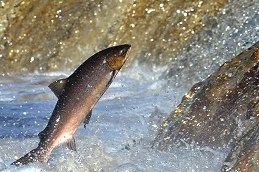 A halt to free fishing, on a stretch of the River Wear in the heart of Durham City, has been authorised by the freemen's trustees to combat what conservationists have condemned as "salmon and sea trout poaching on an industrial scale."
A new bylaw, currently sought by the Wear Anglers' Association, will reinforce the trustees' decision which is supported by Durham Constabulary, Durham County Council and the Environment Agency.
The five organisations held meetings during the summer and autumn last year and insist the ban on all fishing is a decision of last resort to protect dwindling fish stocks that have for years been a target for wide-scale organised crime.
Thousands of salmon and sea trout come into the River Wear from the Atlantic and North Sea every summer and autumn as they head for spawning grounds in the Durham dales.
But a series of weirs in the shadow of the cathedral present a major obstacle to the migration. During low water, fish held-up in pools below the weirs are particularly vulnerable to illegal attack by individual poachers and organised gangs. In broad daylight, as well as at night, many hundreds of fish are bodily impaled on hooks by poachers using outlawed rod and line tactics known variously as "stroke hauling," "snatching" or "foul hooking."
Offenders from across the north and beyond sell their catch commercially, some even arriving in refrigerated vehicles to take their haul away. One lone poacher is reported to have "snatched" 80 fish in a single session.
Operations mounted by police and Environment Agency bailiffs have led to arrests. But the fish can not be protected round-the-clock and the trustees, who have legal control on access to the riverbanks, unanimously agreed the only viable option was to end decades of tradition by withdrawing the free fishing privilege on the south bank.
A ban already applies along the length Framwellgate Waterside on the north bank under an Environment Agency bylaw, introduced on health and safety grounds to protect pedestrians.
The new conservation measure embraces more than 500 metres of the south bank and not only matches existing restrictions on the opposite side of the river but extends into the western end of the Sands.
However, the trustees have set aside 350-metres of the south bank at the eastern end of the Sands to allow law-abiding anglers the opportunity to continue free fishing away from the poaching "hotspots."
Solicitor Philip Wills, clerk to the trustees, said "no fishing" signs would be erected along the affected stretch of river in the near future, handing both the police and the Environment Agency powers to arrest anyone contravening the new banning order, which takes effect when the new salmon season opens on Monday, February, 1st.
"We know responsible anglers who have fished this water for years will be very disappointed by our decision. But we hope they accept this is the only effective way of tackling the criminality that has plagued the area for years and resisted all other attempts to resolve it," he said
Alan Willey, secretary of the 6,000-strong WAA said: "Conservation of wild salmon and sea trout stocks is vitally important to the future of the River Wear. Numbers of these precious fish have been dwindling over the years. The indiscriminate plunder of the river's migratory fish at Freeman's Reach must stop. The majority of our association's members return most of the fish they catch."
Neighbourhood Police Inspector Dave Coxon said: "We have worked with the WAA over the last couple of years to improve legitimate use of the river and reduce anti-social behaviour and criminality for all those for whom the river forms part of their business, sport or leisure time. This change of status closes one of the current gaps in our ability to tackle offenders, making it easy to identify those acting illegally."
Environment Agency spokesman Kevin Summerson said: "There has been a long history of illegal fishing in the area downstream from the weirs. Honest anglers will be disappointed but there will still be 350 metres of free fishing and this solution is the best compromise to balance all pressures."