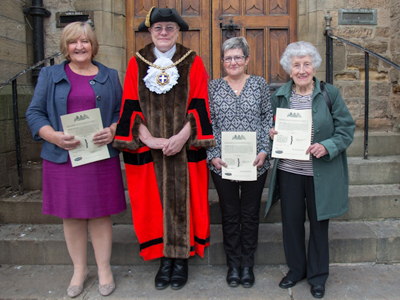 A ninety-year-old widow, determined to maintain her family's long-standing family connections with the Durham City Freemen, was officially sworn in at the Martinmas Guild Day in the town hall.
Great grandmother Anne Pearson followed in the footsteps of her grandfather, father, two brothers and brother-in-law when she became a member of the Plumbers' Company.
"I have a son and two daughters and would very much like them to follow the family tradition. I underwent this ceremony to allow them to do that," said Anne, a retired civil servant who also has six grandchildren and eight great grandchildren.
Her father, Emmerson Heron, qualified for the freedom after completing his apprenticeship as a master plumber and brass finisher in the mid 1890s – following his own father, Henry. Her brothers Harold, now deceased, and Leslie, who is in his 70s, also trod the same well-worn family path.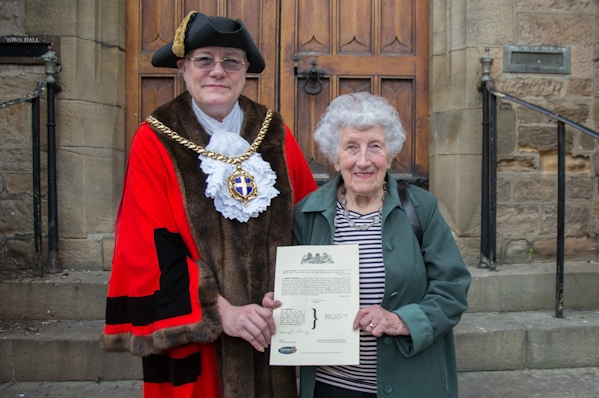 Anne Pearson after the ceremony with the Mayor of Durham Jan Blakey
Anne was employed at the National Savings Department in Durham between 1974 and 1990, while husband Stanley worked at the Hawthorn Coke Works near Murton.
He served for six years with the 4th Battalion the Border Regiment at the Siege of Tobruk, Syria, India, Burma, Norway and Germany during the Second World War.
Anne was welcomed into the Plumbers' Company with two other newcomers whose shared family links to the freemen also stretch back more than a century.
The induction of sisters Maggi Davis from Upton on Severn in Worcestershire and Liz Cain from Stockton, Their mother Pat Billsborrow, a 79-year-old ordained minister in the Methodist Church, did not manage to get there in time to watch the ceremony as she was held up in fog, but eventually arrived later to join them for refreshments. Pat was among the first women to be admitted into the freedom in 2012. Changes in Equality Laws two years earlier swept away admission restrictions and ended nearly 700 years of all-male domination.
The sisters, both born in Stockton, have family links with Durham going back to their maternal great grandfather who worked at the world renowned Harrison and Harrison organ factory after the turn of the 20th century and also served as a bedesman at the cathedral.
Their grandfather, Leslie Todd, became a freeman after an apprenticeship as a painter and decorator in Durham. He then joined the police and was a village bobby in Stockton in the 1930s, rising to the rank of chief inspector in Hartlepool.
Maggi, who is 53, left Teesside after attending the Ian Ramsey Church of England Comprehensive to read theology at Birmingham University.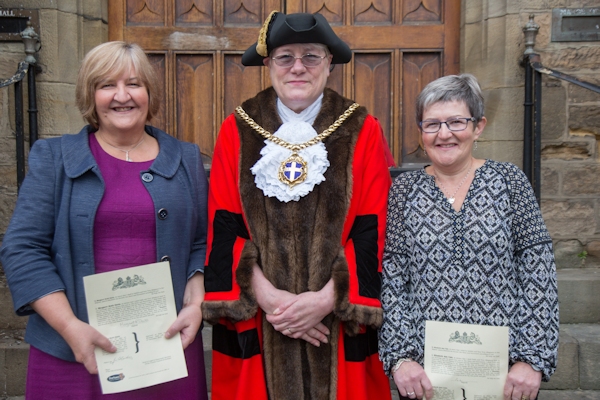 Margaret Davis and sister Elizabeth Cain after the ceremony with the Mayor of Durham Jan Blakey
She went on to marry electronics engineer John and the couple have a 31-year-old son and 29-year-old daughter.
Twenty years ago Maggi, trained to become a primary school teacher and is currently head of art and design at a school near her home. She is also in the second year of study for a Masters' degree in the history of art at the Open University.
Fifty-five-year-old Liz, who has been married for 35-years, has two daughters. Until three years ago she was a tutor assessor for people working with children in their early years but has since opted to care for her three grandchildren, aged between six and three, while her daughters are at work.
She relaxes by baking, sewing, knitting and gardening.