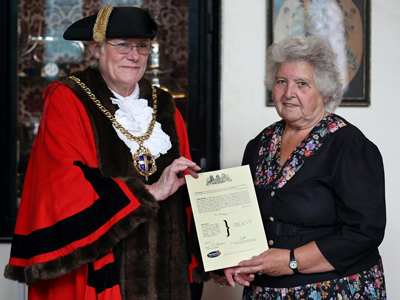 A great grandmother, who has given behind-the-scenes support to Durham's freemen for more than quarter of a century, was honoured today (Monday, August 10th) at a unique ceremony in the city's town hall.
Seventy-five-year-old Rita Brown, was sworn into the joiners' company as a Lady Freeman, joining her two children and five grandsons who have already been awarded the freedom.
While Rita's children and grandchildren all joined the joiners' company through the traditional route – qualifying as the sons and daughter of a freeman – she is only the second woman to be invited to become a Lady Freeman, a distinction shared with eight Gentlemen Freemen.
Rita has attended all the freemen's official public function for the past 25 years, most with her husband Jim and a habit she continued after his sudden death nearly eight years ago.
"It is a great honour and my husband would be over the moon," said Rita, an office worker until her retirement over 20 years ago.
Jim spent five years in the RAF and worked as a driver for various companies until disability forced him to retire. He joined the freemen in 1957, following in the footsteps of his father and grandfather. He was elected warden of the joiners' company in 1986, the same year his son Robert joined. He succeeded his dad as warden following Jim's death in 2008.
Rita's daughter Ann was among the first women to be admitted after changes in admission laws in 2012 ended nearly 700 years of all male membership.
Her five grandsons – David, Michael, Darren, Adam and Dean – are already members and her six grandchildren – three boys and three girls – will all be eligible to swell the family's ranks when they reach their 18th birthdays.
John Heslop, chairman of the wardens of the freemen's eight surviving guilds, said: "Rita's association with the freemen has been both enthusiastic and valued.
"She has maintained and encouraged her family's century- old links and religiously attended our guild days, annual dinners and other public functions we have been involved in. We would have been very much the poorer without her support."