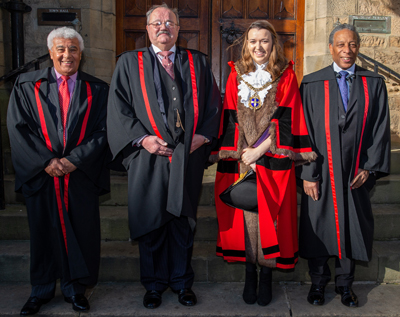 Three leading community figures have taken up rarely offered invitations to join the ranks of the Durham City Freemen - providing them the opportunity to initially support the organisation and then offer themselves for election to undertake key leadership roles.
Admission into the freemen's eight surviving guilds is regulated by a strict criteria thought to date back to 1327. The last time such a direct approach was made to an "outsider" was more than 35 years ago.
The freemen currently enjoy a modern day record membership of 260 men and women but have, in recent years, struggled to find volunteers to fill management positions.
Following a review of future heritage options last year the membership voted decisively in favour of a move to seek out "experienced and committed individuals" from outside their ranks willing and able to take on key responsibilities.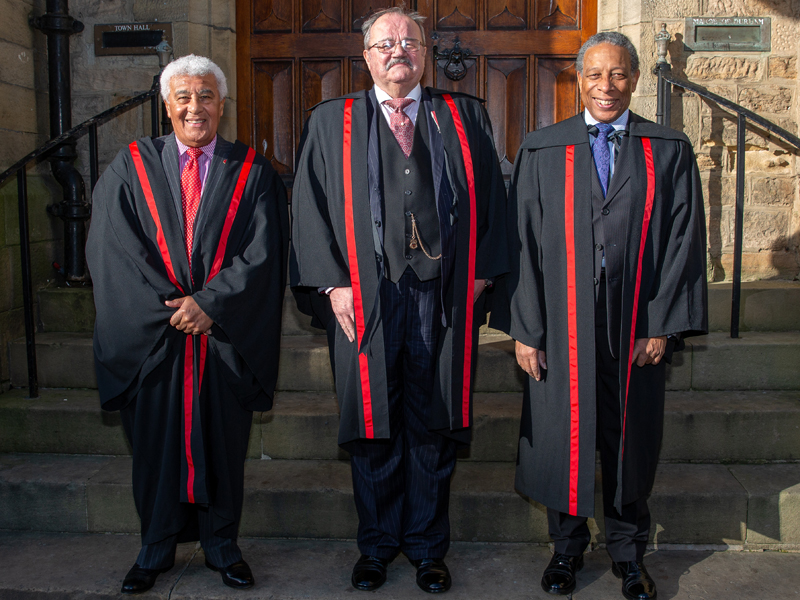 The trio invited to take up the unique offer are former Durham County Council chairman Mac Williams; ex-firefighter Arthur Lockyear, awarded the MBE ten years ago for his voluntary work; and retired teacher and computer specialist Trevor Carter, currently vice chairman of the Durham Pointers who welcome tens of thousands of visitors to the city each year. The three have all expressed an interest and desire in the development of the freemen and maintaining the guilds' history and heritage in the changing and challenging times ahead.
"All three men are passionate about Durham and are currently volunteers involved in promoting other aspects of the city's history. I am in no doubt they will prove a real asset to our organisation," said Eric Bulmer, chairman of the freemen's charitable trust and a former chairman of the wardens.
Mac, started his working life at Dawdon Colliery in 1960 and after attending day and night classes at Sunderland and Durham Colleges he landed a job with Seaham Urban District Council in 1971. He then moved on to Wear Valley then Durham City Council as health and safety officer.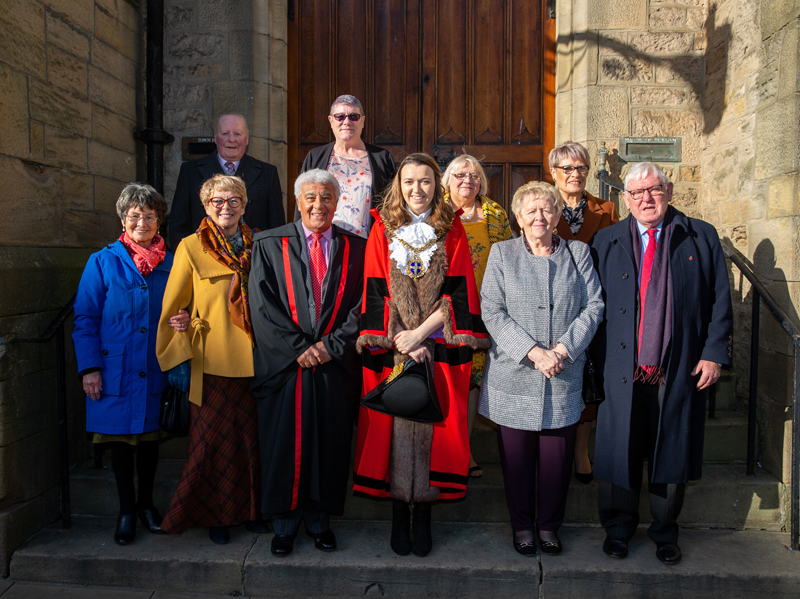 He became a Durham County Councillor in 2006 representing the Coxhoe ward and was elected chairman of the authority in 2010. During his year in office he raised many thousands of pounds in the wake of the Japanese tsunami and received letters of appreciation from the Japanese Embassy and Consul General. He stepped down from the council in 2016.
Now in his 70s, Mac was appointed a magistrate in Durham City in 1979, taking on the chairmanship of the bench in 2001 before accepting the same role with the North Durham Bench two years later. He retired from the bench in 2014 after a remarkable 35 years of service.
He became a member of the Durham Police Committee in 1988 and continued sitting when it became the Durham Police Authority, serving both for more than 15 years. He was a member of Durham University's Ruth First Trust until 2016 and is currently a governor of the Durham and Darlington NHS Trust. He was admitted an associate member of the Freemen of England and Wales in 2017.
Last year Mac became Durham's Pant Master – now an honorary role represented in mayoral processions - but was once, as guardian of the city's wells and water, vital to every citizen's wellbeing.
Sixty-seven-year-old Arthur, also brought up in Seaham and now based in Durham, served as an operational fireman in stations in Sunderland, South Tyneside and Gateshead. While with the fire service he helped organise Remembrance Day parades in Sunderland and since 2014 has played a key role in Durham City's Remembrance Parade and the Durham Cathedral Festival of Remembrance.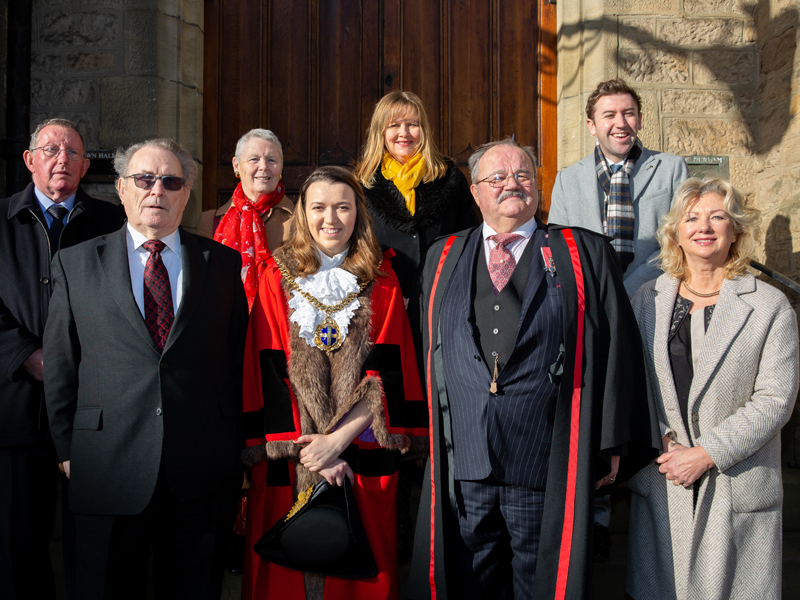 He is the author of the book "Warriors in Fire Boots" – a tribute to the valour of firefighters and has taught the Japanese martial art of Aikido in Durham for over thirty years.
Arthur was instrumental in bringing many internationally renowned martial arts masters to the city and as a consequence of his efforts a three part television documentary, entitled "Budo Sai," was commissioned by Tyne Tees Television and syndicated internationally. He is a well-known teacher of and writer on Aikido and is currently a 5th Dan Black Belt.
Trevor arrived as a student at Durham University 50 years ago - and never left. He taught maths and computer studies in three local schools for 20 years and was a head of department before leaving to set up his own I.T. training business. For the last five years of his career he worked with the I.T. advisory service for a north-east local education authority.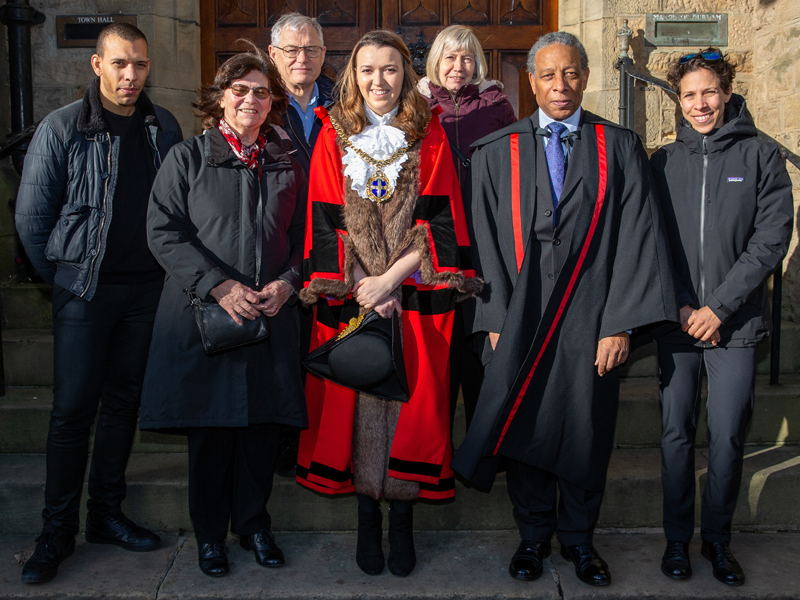 After serving as a governor at three different schools he was elected as the region's representative on the National Governors' Association and for more than a dozen years has been a member of a Foster Care Panel, interviewing prospective foster carers.
He was a founding member of the local history society in his home village, serving on its' committee for over 20 years and has also been an active member of a local PCC.
In addition to his work with the Pointers he is also a steward at the Cathedral and a volunteer at the World Heritage Site Visitor Centre. Having been a mentor at one of the university's colleges and an invigilator in exams, he has more recently been seen as a Beadle, fronting academic processions and other ceremonies.
Note: If you require high resolution images for printing please contact:
Geoff Kitson the Freemen photographer at geoffkitson8@yahoo.co.uk