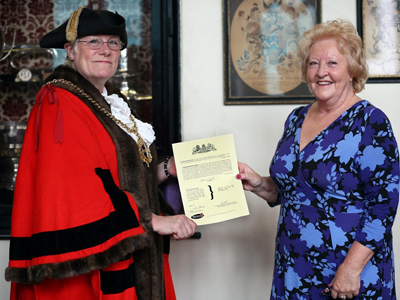 Grandmother, Helen Gent, reinforced her family's long-standing ties with the freemen at a unique ceremony, following a working life that has brought her full circle.
Helen, now 65 and retired, left Whinney Hill School to join a well-known city travel agent – before moving to London where she worked in hotels before becoming an au pair in Paris.
On her eventual return from France she took up an appointment as a ground stewardess with Laker Airlines and then, with a friend, set up a catering business that boasted Cabinet Office ministers among its clients.
After the birth of her son she went on to specialise as an aroma therapist and then as a sports masseuse. Finally, at the age of 60, she successfully completed a French degree course while studying in south west France and more recently returned from southern England to live near Bishop Auckland.
"I was surprised when I learned of the change in rules that allowed the admission of daughters of freemen and decided to put my name forward," said Helen.
She follows her brother Peter, father Alan and grandfather Henry Johnson into the plumbers' company.
In May of this year the first Lady Freeman, Doris McElwee, was sworn into the Cordwainers' Company where her husband Joe is the warden. She too is a grandmother.